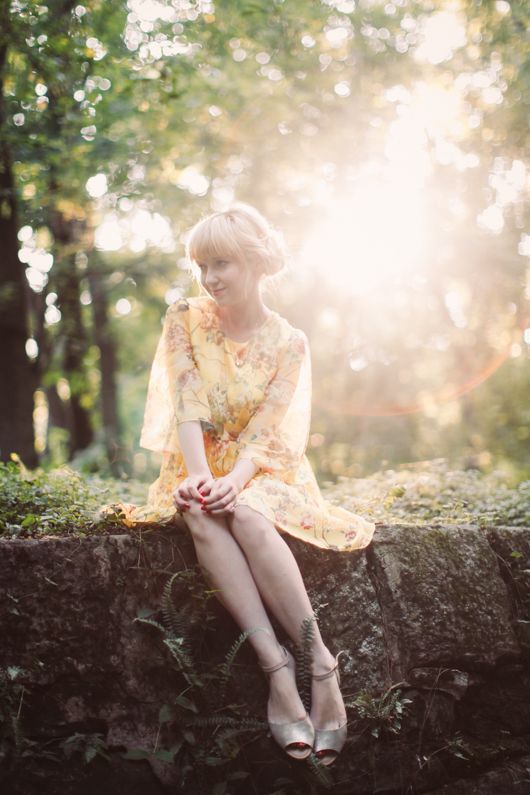 When I wrote about the Dolce & Gabbana Fall 2014 collection last March I predicted the key print would be the most knocked-off print of 2014 and I don't think I was far off. I have been seeing that print in shops, as well as other pieces that look ripped off the runway--like this yellow dress with beautifully detailed print of owls and squirrels peeking out from behind blossoming branches. I've stated my thoughts on knock-offs before, but to me, this dress doesn't represent a loss for the brand. A similar dress by Dolce & Gabbana is available for pre-sale now for $6495. I don't intend to spend that much on my wedding dress, so the brand isn't experiencing any financial loss by my non-purchase of their branded materials. Those purchases will probably never happen. So instead, I'll continue to admire their design work and nab the occasional piece that I adore and is within my price range. I have a different attitude about small designers and artists though, but I'll probably have to write a more in-depth post about knock-offs one day to fully discuss that.
As for today, I'm happily wearing this ethereal dress in a wooded setting I feel it was made for. While I initially avoided yellow as a blonde for fear of looking like "a beautiful pineapple" as Frenchy was told at the dance in
Grease
. Whether intended as a compliment or not, I doubt there's anyone who really welcomes a resemble to any yellow fruit. But I think this works okay with the blonde hair and will probably look good in later months when I inevitably return to red.