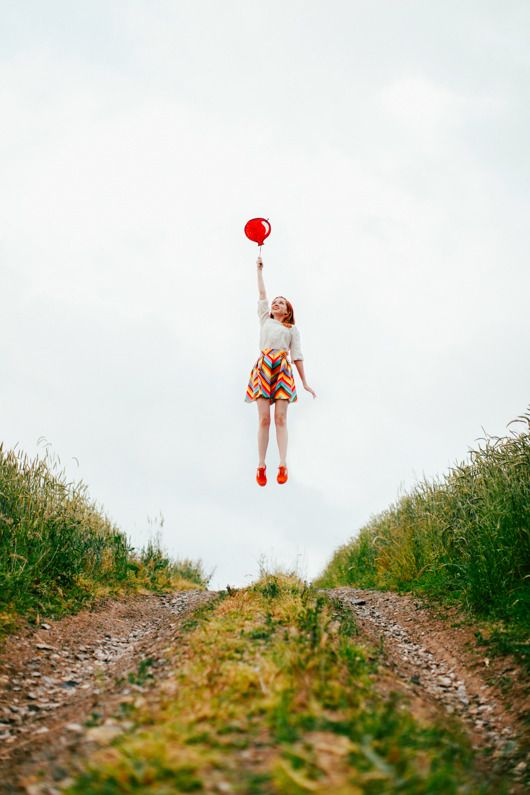 As soon as I received
this little balloon purse
in the mail I knew I needed to do a bright and colorful outfit post featuring it carrying me away. It took a little while for the perfect conditions--good weather, ideal outfit, etc, but we finally got the pictures I had envisioned in my head. This quiet path in the countryside was the perfect backdrop for the colorful and playful outfit. When I first began blogging I didn't really think fashion and interesting style was for people who lived in a countryside (like myself). Fashion seemed to exist in magazines and movies; outside of the printed page or screen then you might find fashion in a city where busy sidewalks seemed to make everyday life feel more like a runway. People often talk about how style isn't dependent upon budget, but it also isn't dependent on location. I attended college at rural university and slowly started to figure out my own style through this blog and with every picture I snapped in the empty woods and fields around my college I was trying to re-assure myself that yes "fashion" or style could exist there too. It didn't matter if no one else was wearing a dress to class everyday or heels were a little impractical for dirt paths--my impractical, slightly unusual clothes made me feel good. In the intervening years my style has traveled with me to a number of exciting cities and quiet hamlets.
So, here I am in a playful little shoot with my
Valentino inspired (knock-off) skirt
and new red balloon clutch carrying me into the sky because a red balloon reminds you of "Up" or even the famous short "The Red Balloon," and the pictures are fun and light--but they're also a metaphor for how fashion can take you places. It's not always about leaving the small town (or in my case trading one small town for another!), but about enjoying your personal fashion fantasy no matter where you are. Style exists as much in farmlands and dirt paths as it does on city sidewalks.