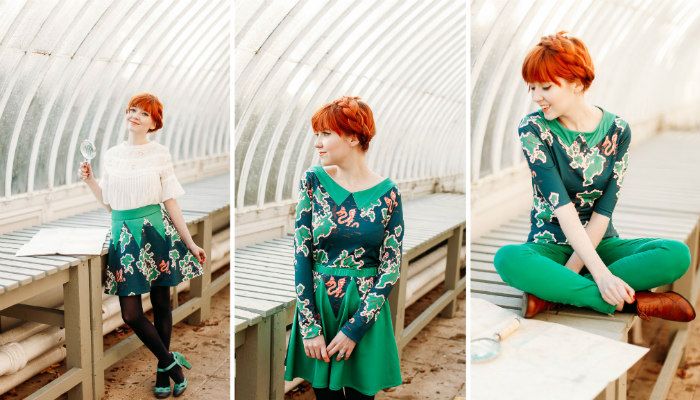 Today is a very exciting "Cyber Monday" because in addition to loads of other sales online,
my capsule collection is available to pre-order through Trunkist!
It's so exciting that the clothing line I've been quietly working on for months is now available to the public. I can't wait until it's in people's hands--I think one of the coolest experiences will be to see someone wearing something I designed. My pieces started with inspiration from a vintage dress and really came to life when we found this perfect print which combines so many of my interests and inspired the title of the collection--Here There Be Dragons. I'm really in love with the print; the combination of a map print and sea dragon or monster is just perfect. I like the idea of reaching the edge of the map, the edge of the known world, and discovering new things and going even further. And that's a lot of what this collection has been about; taking what I "know" about fashion and design through my passion, but also learning how little I know about design and how much more there is to know and how much more I can do. I keep calling this my "first" collection because I have my fingers crossed that it won't also be the last. In so many ways I'm also on the edge of the map, of my experience, and figuring things out in unfamiliar waters. It's been a big year and I can't think of a better way to round off 2015 than with this last, epic adventure in fashion!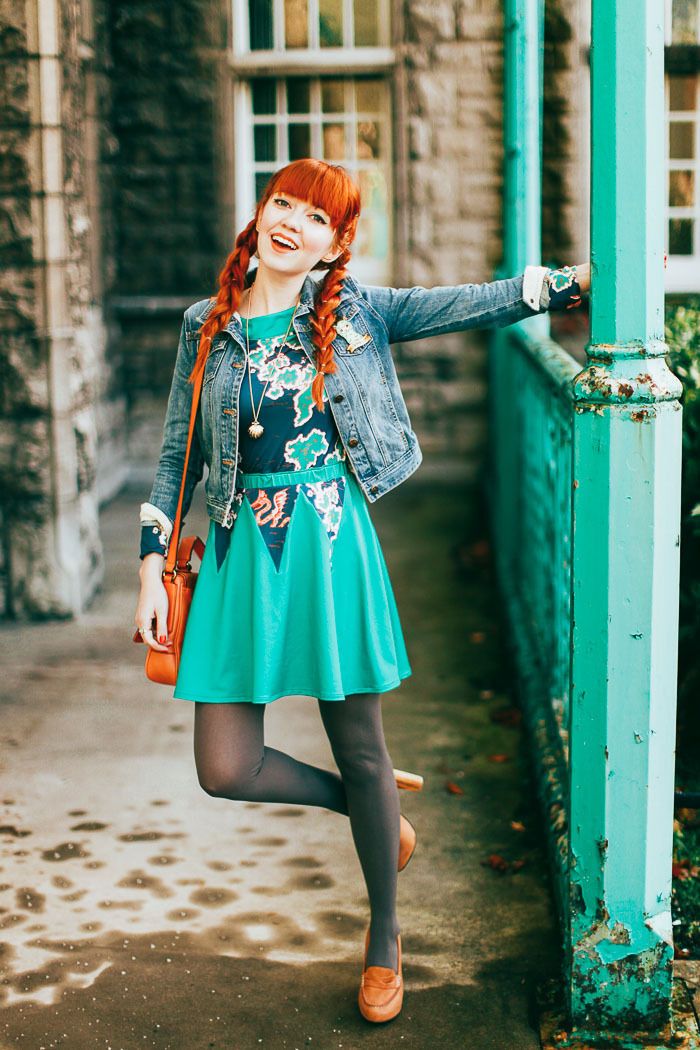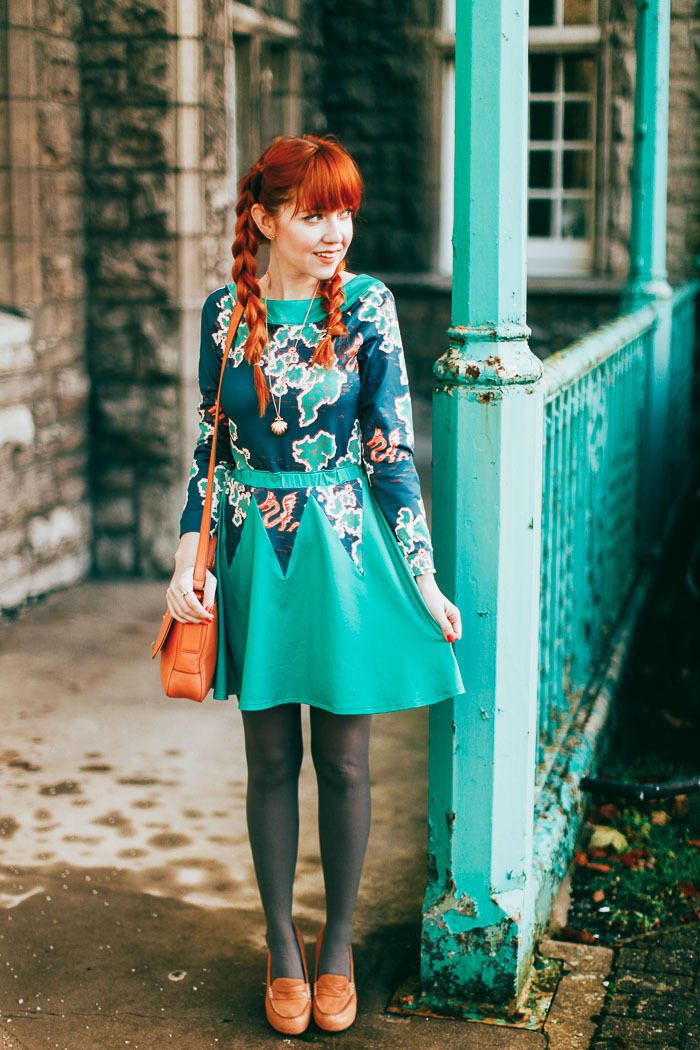 I started the whole collection with this dress, the "
Dragons dress.
" It's a jersey pull-on design with elastic waistband; fitted through the bodice and sleeves, with a faux collar. One thing I love about this design is it can also be worn backwards; in these pictures it's styled as it was intended, but in my first picture in the post you can see the dress being worn backwards--it's just a fun option that lets you switch up the collar if you want. Another important design element for me: long sleeves! This is definitely a collection of clothes I want to wear and one of the things that annoys me to no end is the lack of long sleeve dresses in the fall and winter. The dress is
$158 and you can order it here
. I had hoped to keep all of my pieces under $100, but between producing everything in America and the quality of the print we chose, that price goal became impossible for the dress. I'm definitely learning a lot about production through this process and if your budget is a bit tighter, then no worries because we did manage to keep the skirt and tee at a lower price point!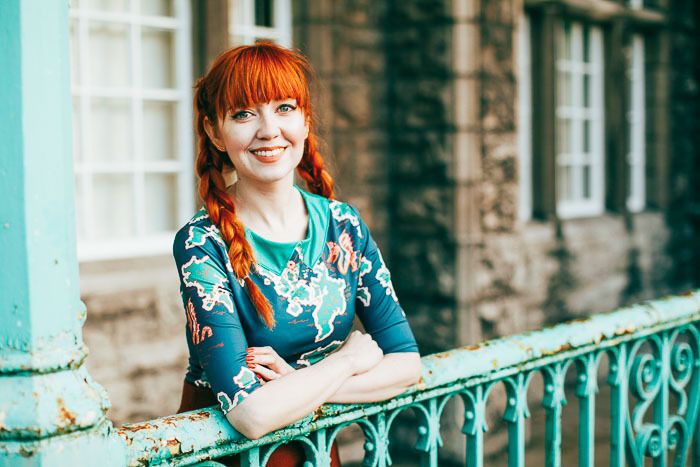 The Dragons Tee
is a great better-than-basic tee. It is casual enough to wear easily with jeans, but the trompe-l'oeil collar and bright print means it looks equally good with more dressy pieces like full skirts. I'm actually really looking forward to remixing this piece soon and playing with some of the ways it can be styled--there's also a good number a colors in the print so even the palette of potential outfits is huge. I mean--green skirt with navy tights in fall, coral shorts in spring, a white denim skirt--there's so many ways it can be styled. I'm not a big one for tees, but I've been wearing a lot of seperates this fall and it has made me appreciate a good top so much more. I love fitted tops, so this one is definitely that--you might want to size up since I'm usually a size 0 and wearing this in a size 2.
It's $68 and you can order it here.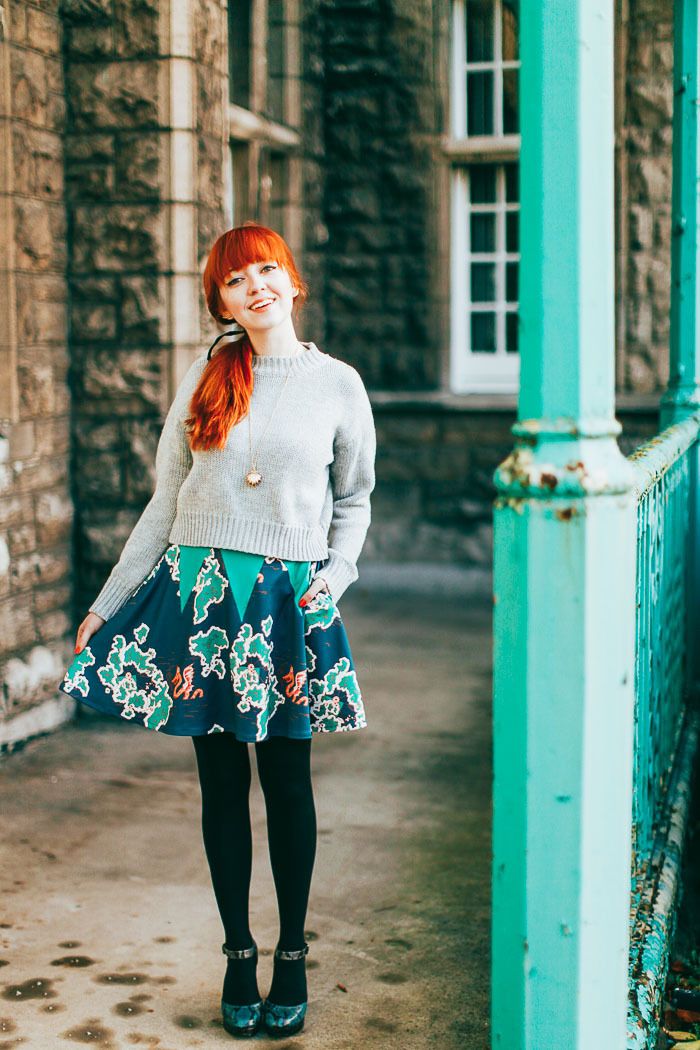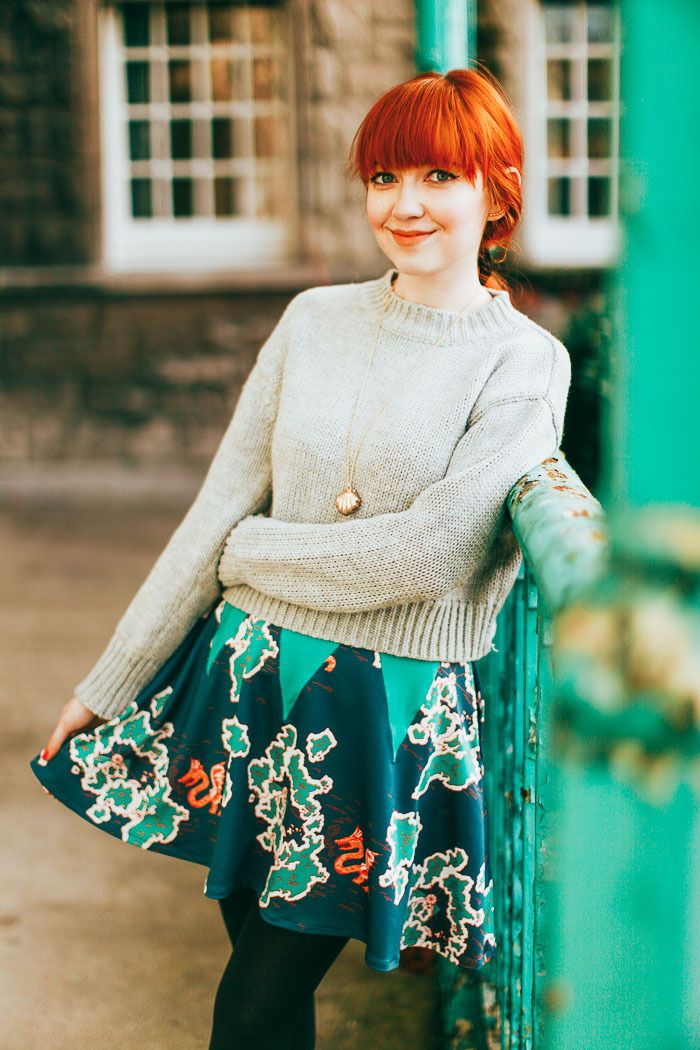 The Dragons skirt ended up being my favorite piece in the collection. It features the unique triangle inserts that first inspired my dress, but is just a perfect throw-it-on and go piece and I feel like I'll wear this one the most. Like the tee it's also very easy to style this skirt in a load of different ways (tucked in crisp white blouses, casual crop-top sweaters, etc). It has a wide elastic waistband with side snap closure and single vintage inspired pocket (because pockets are always a good idea!). I'll definitely be remixing this piece soon as well.
It's $94 and you can purchase it here.
So that's
my capsule collection
! All of the pieces are available in size 0-14, but since it is pre-order we can accomodate more sizes. I'll be sharing more pictures of the pieces in the coming weeks as I experiment with ways to style them and if you need more detail shots or information, do check out
the collection on Trunkist
where there are more pictures and information on each piece. The collection is available to order now through December 31st. After that everyone's orders will be made just for them and shipped out in March.
Here There Be Dragons
is a limited edition collection, meaning after the pre-order period is over no new orders can be placed and these pieces won't be produced again. So if you like them, I hope you'll buy them now! And if you do, please share your pictures with me of you wearing my designs! That would be the highlight of this whole designing my own collection experience!