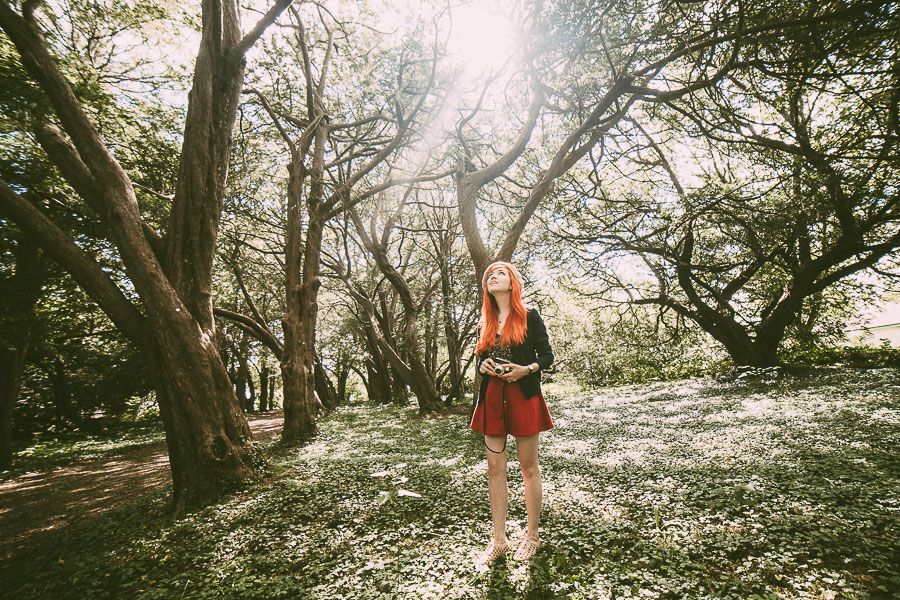 A few universal signs that you're fashion blogging "wrong":
1. You're wearing seasonal clothes out of season.
Like me today in autumn tones and
a fox cardigan
in the middle of summer. Fashion bloggers should always be "in season" or slightly ahead of season (like wearing fall clothes in fall even if it hasn't got cold yet, but it should still be a fall month).
2. You forget or neglect to post theme outfits on holidays.
What would Fourth of July be if you are American and not wearing red, white, and blue on the web? Of course posting holiday-themed outfits on the actual holiday means taking the pictures a few days before the holiday. You're especially fashion blogging wrong if you miss all those new "food days" like National Donut or Chocolate Chip Cookie day on your Instagram. They might be "food" days but as a fashion blogger that is the perfect excuse to buy that donut print skirt and pun tee...
3. Your nails don't match your outfit and you always miss the "arm party."
Fashion blogging isn't just about the clothes, it's the whole picture. That means the perfect accessories even for a casual tee shirt and jeans look; actually a casual tee shirt and jeans look somehow calls for the most accessories--make sure you wear 10 rings, 25 bracelets, and 30 necklaces to get that
casual
look to pop.
4. You don't have the "it" fashion blogging item of the year.
The "it" accessory changes every year. A few years ago it was boldly colored Cambridge satchels and Jeffrey Campbell mary-jans, then a couple of years ago it was Valentino rock studs. I'm not sure what it is at the moment, maybe off the shoulder ruffle tops and clog sandals? But there is an "it" item that nearly every fashion blogger is wearing and if you don't have it, can you really call yourself a fashion blogger?
5. You don't blog about your vacations or take a few weeks off blogging.
In the fashion blogging world getaway is just a word for "new photo backdrops" so if you aren't capturing your vacation outfits while you are away then what was the point in going? And why would you ever need to take a break from blogging--it's not like a regular job! Getting refreshed and re-inspired to blog every day should only take the length of one shower.
6. You smile at the camera and don't pose in front of blank or brick or mural-ed wall
(basically you aren't a fan of walls). Fashion blogging poses evolve constantly and a good fashion blogger will evolve with the times. A good fashion blogger went from pigeon-toed looking at your feet, to smiling at the camera, to the current trend of looking off into the distance and faux modeling. If you can't quite get the serious/neutral expression down and just look grumpy if you're not smiling, then you're probably fashion blogging wrong.
If you make all six of these mistakes you might be a
terrible
fashion blogger, or you might just be me! Of course this is all tongue-in-cheek though since I don't actually think any of those things make you a bad fashion blogger, or really that there is such a thing as a bad blogger. This post topic just popped into my head when I was editing these pictures and thinking "hmmm this outfit looks so much better for autumn than summer" but it is what I wore and why can't we wear some autumn colors in summer? Is there a law against it?
I think the only keys to being a "good" fashion blogger are staying authentic to your personal style and balancing that with what people are responding to. For example when I first started blogging I blogged about fashion in general, I posted about runway shows I liked and street style that inspired me and only on occasion shared outfit posts. Outfit posts always got the biggest response when I did share them, so I started sharing them with greater frequency, but I tried not to let the feedback influence what I wanted to wear. Even today when I work with a brand who wants to send me something to feature I handpick the items that I will wear and turn down brands that don't have pieces that I would want to wear or try to push my towards different pieces in their collection that don't seem my style. In the end there's room for every type of fashion blogger under the sun, as long as people are true to themselves.