Wicked booties and tie-dye tights make this collection by Emma Cook simply stunning. The muted tones allow the details and patterns shine through. The collection is not really my typical style, but isn't that rather the point? I'm often inspired by collections and people who dress very differently from myself. While I might never have the courage to emulate some of the crazy mixes I admire on street fashion sites, perhaps I can add a small dose into my daily outfits or even just admire them from a safe distance.
When I see an outfit completely different from what I would ever wear, it is like hearing an amazing quote that can change your outlook on life. Only this changes your perspective on style and clothes. There's more than one way to wear a dress and more than one way to style patterns. So while I can't see myself wearing combat boots with babydoll dresses like Emma Cook showed (at least not today), I hope to see some brave ladies rocking this look soon.
Besides, wouldn't admiring only fashion or fashionistas who resemble myself be rather...narcissistic?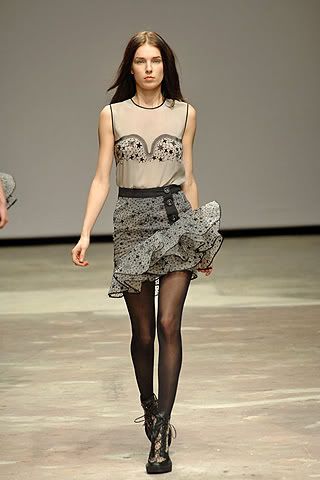 Pictures from Elle.com; collection: Emma Cook Fall 2008 RTW