Spring is decidedly in the air and I have high hopes that the weather will remain sunny and balmy...or at least not dip down too low again. It's just so liberating to feel a gentle breeze against bare skin after months of being sheathed in thick tights and heavier coats.

Normally I won't carry a purse too small for my camera, but I'm making an exception for this sparkly be-bowed number from
Deux Lux
(and carrying my camera tourist-style around my neck). I've been bought a couple of Deux Lux pieces in the past year that I've really enjoyed using; one lasted all through my abuse during my Europe trip last summer and is still going strong. Someone at Deux Lux noticed and asked me if I was interested in picking out a few pieces. Not one to look a gift horse too closely in the mouth, I accepted and am now the happy owner of several new purses. I'm a bag lady, so more than shoes or hats, I love acquiring new purses to tote my life around in.
I couldn't resist the sparkly bow on this piece and so far the quality seems really nice; it's soft to touch and there are no signs of fraying or the like. I personally would have preferred if the chain was detachable because it would look cute as a clutch as well and the chain is rather long; it would suit a petite frame better if the bag hit higher on the hip. Those sorts of details are more personal preferences than critiques. Overall, it's a sweet bag I intend to use on days when I'm not required to carry much with me.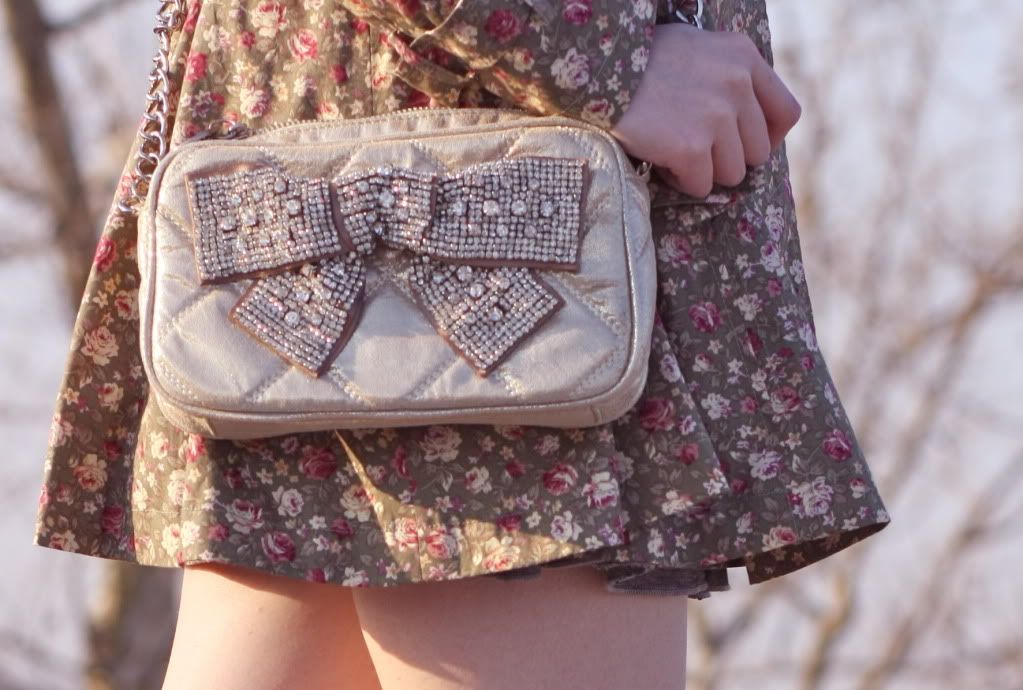 Outfit details:
Madewell tee