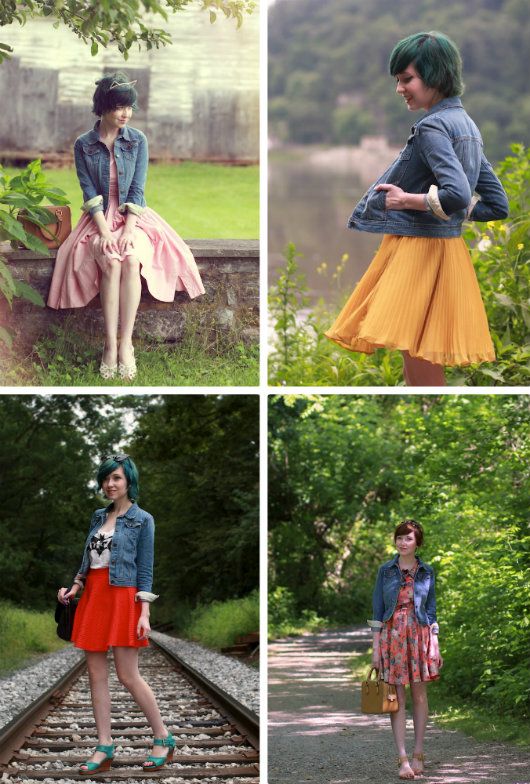 Previous outfit posts:
one,
two
,
three
, and
four
.
Someone requested a jacket remix with a focus on cropped jackets about a week ago, so I put together this post. I tend to not feature jackets or coats in remixes because I rarely wear them as anything but a jacket or coat. Meaning that a slip dress might be turned into a blouse by tucking it into a skirt, or appear as if it is merely a skirt by layering a sweater on top, but jackets are merely jackets. Occasionally you switch the belt of a coat or you can layer a knit shawl over the shoulders for a different look, but it's still pretty clear what it was originally. However, remix posts can be a good space to illustrate how an item fits and review it in more detail. So today I'm talking about finding a
cropped fit jacket
.
As a petite person it can be hard to find the right jacket and tailoring a coat's shoulders is one of the most difficult alterations to make. If you are a fan of an oversized fit, then you're in luck--nearly every denim jacket will look as if you borrowed it from your boyfriend and coats are a bit boxy. My trick for buying petite when you can't find a petite shop: buy children's. This works especially well if you like a cropped fit; I do for my denim jackets and sweaters. After failing to find a sweaters that stopped at my waist instead of my hips a few years ago I started buying basic wool-blend sweaters from J Crew boys. I'm 5'1" and I usually purchase a size/age 10. You can see an example of how the sweaters fit me
here
and
here
; they look like typical sweaters and unlike a more typical women's size xsmall or small (see below) they hit near my waist. Most sweaters or jackets are cut a specific length and go wider or narrower depending on size, but not shorter to accommodate for petite torsos. But children's garments differ in their sizes and are cut much shorter. My
Crew Cuts denim jacket
is a size 10; I can button it closed but I prefer to wear it open with the sleeves slightly cuffed to make them more 3/4 instead of hitting just above my wrist as they naturally do. While Crew Cuts tends to be the source of my sweaters and jackets, you can also find them at thrift stores by visiting the children's rack there, also many vintage pieces are cut shorter so that's another option. The downsides to buying a children's piece tend to be cropped sleeves and no accommodation for curves.
When you are not a standard size (ie you're short, your torso is shorter than average, etc) then to shop it is best to know your measurements. Size small or 2 or whatever is just a rudimentary label applied by a brand or store. When you know your measurements you can explore pieces that would typically be outside of your size. There are two sets of measurements to keep in mind: the measurements of your body and the measurements of something that fits how you want it to fit. A cropped jacket isn't going have the exact measurements of your body because it's not a bodycon dress. When shopping I sometimes look for or request the shoulder to waist ratio of a dress and compare to a measurement I take from a dress I already own and like the fit on. When purchasing from children's sections I begin with the measurements of my bust and waist and then look at the size chart of the shop and choose a size based on being a couple of inches larger than my own bust and waist.
For comparison from children's to adult sizes, below are pictures of me wearing the "charter school cardigan" from Modcloth in
kelly green
and
lake blue
. This cardigan is a size small. It is described as having 3/4" sleeves, but as you can see from the fit on me, the sleeves run past by wrists and the cardigan is cut long for a petite body. I like the fit of this cardigan too, but since it's not even listed as an oversized cardigan it does illustrate how difficult it can be to find one that is more fitted when you're short.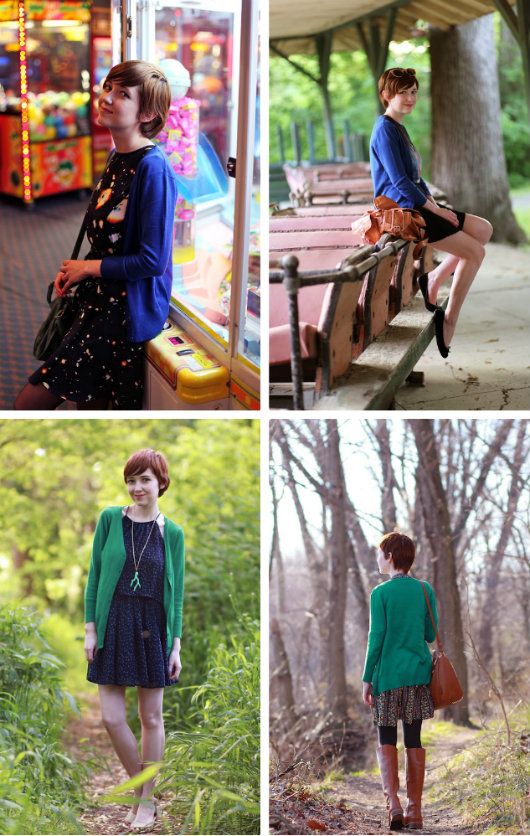 Previous outfit posts:
one
,
two
,
three
, and
four
.