For some reason hair questions are some of my most frequently asked questions, so here's another hair post for all the curious. Since I went blue I've gotten more comfortable dyeing my hair myself so I haven't been to a professional in months. The first step transitioning from blue to red was to strip as much blue out as possible, then I dyed my hair brown, and then red. I've tried a different red nearly every time I dye my hair and usually it isn't nearly what I want, my latest color is
L'Oreal's Lightest Auburn
and it's been the closest to what I'm aiming for.
At home trick for avoiding purplish reds:
The biggest problem I've found with at-home reds is the tendency for red to go towards the purple end of the spectrum rather than the yellow-orange end (which is what I prefer). A trick I picked up on the Internet that really works is crushed up Vitamin C tablets mixed with Head and Shoulders shampoo. Basically you mash up 20 or so tablets add enough shampoo to coat all of your hair (I always apply it to dry hair) and then apply the mixture all over. Leave in for around 10 minutes, wash it out and apply a lot of conditioner. The mixture strips out the purple tones and lightens your hair some--the longer you leave it in the more it will lighten you hair so small increments of time is better because you can always repeat the process to go a little lighter, but you'll have to re-dye if you leave it in too long and it ends up too blonde. Anyway, it's a great at-home trick to fix your hair without going through the entire dyeing process all over again. I don't know how the mixture would effect un-dyed hair or colors other than red, but no matter what color red or brand I end up with this has worked to take the purple out and lighten it a shade or two.
Maintenance:
My favorite shampoo and conditioner while I have red hair is Giovanna Colorflage Shampoo & Conditioner in Remarkably Red. I think it helps maintain the red and it's cruelty free. As always with dyed hair the less you wash your hair the longer your color lasts and washing in cold water is better too. I also like to leave my conditioner in my hair for at least 2 minutes before I wash it out to counteract the damage of dyeing and styling.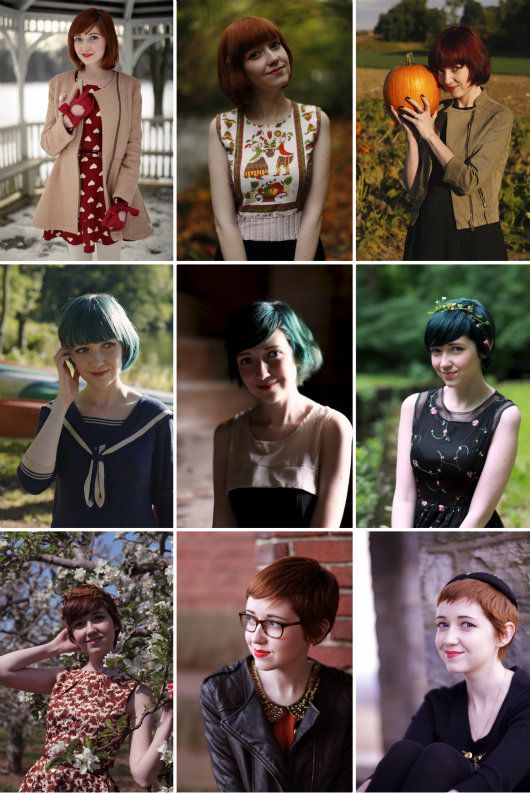 On growing out a pixie:
Contrary to the term "growing your hair out" the trick to not hating your hair from the pixie to a different style is frequent cuts. With a pixie cut I went to the hair stylist once a month or so, but when I started growing it out I actually got friends to touch my hair up far more often. Your hair grows at different speeds and while the sides might look fine shaggy, as the back gets shaggy you tend to have a mullet--not cute. I had my friends trim my back every time I started to get antsy; I don't see the back of my head so the cut didn't have to be perfect and clean, it just had to not resemble a mullet. Keeping the back trimmed regularly helped me leave the sides alone and eventually gave me some overall length while avoiding as many awkward stages as possible. The earliest picture in the above set is from December 2012 and the most recent one was taken a few days ago.
Other thoughts on helping you grow out a pixie: change up your styling and/or color. Whatever your routine was in the morning for a pixie cut--change it. As your hair gets shaggier you can add texture with curls, pin it back, put it in tiny pigtails, etc. Personally, I had always wanted blue hair and it helped kick my boredom in the middle stages. Ideally I'll go back to blue one day and it was very fun this summer as I finally got my hair to a length to bob it.
The biggest truth about growing out a pixie: there's no special trick, it's annoying and it can be unflattering at points, you just need to exercise patience.