My brief mention to old Hollywood starlets in another post reminded me of one of my favorites, Jean Harlow (who was in love with one of my favorite male stars, William Powell). Jean Harlow was the original blonde bombshell (I'm not giving that term loosely out of fandom, this term was coined for her); she had a flair for drama and comedy. She tragically died young of poor health from which she had suffered all her life.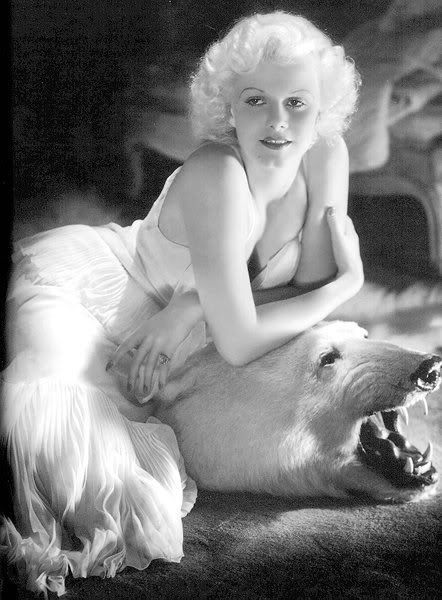 What I remember Harlow for through her films is how powerful she is on screen. She might give you a few laughs, but she always seemed a tough and strong woman--she didn't take crap from anybody. I am also given to singing her lyrics from
Reckless
(a reference that is always lost on my friends) at random.
The song lyrics, which really to my mind describe her personality better than I could ever (a woman who is ready to bruise, burn out, and be reckless):
Harlow: "What'll you ever BE? What'll you ever DO? How will you ever KNOW if you don't take a chance!?"
Girl Chorus: "You have got-to-get-ONE...SWEET...TASTE..."
Harlow: "I'm gonna LIVE long, LEARN a lot, I'll light my candle, and I'll BURN a lot!"
Girl Chorus: "You'll have your BEST shocks, HARD knocks..."
Harlow: "I'm on my OWN if I bruise!"
Girl Chorus: "And they'll be SMART TEARS, JUST TEARS!"
Harlow: "And I can take it on the CHIN if I lose,because I'm RECKLESS!!!"
Girl Chorus: "Because she's reckless..."
Harlow: "I'm gonna GO PLACES and LOOK LIFE IN THE FACE!!!!"
She's also given credit for a number of great
quotes
that evoke her sharp (witty, smart?) personality; my favorite being "When you lie down with dogs, you wake up
with fleas."