I've been reading Flying Saucer for at least as long as I have been blogging. Selina's blog is a smorgasbord of curls, ribbons, and florals. Her style is regularly girly, but she definitely mixes it up with bodycon dresses and chic trousers. Originally hailing from the UK, she's currently spending a semester in Sweden, but she did take time to plan a dream party for me! The whimsical and wild description that follows sums her up much better than I ever could.
What type of party is it?
It's a candy floss, pastel, rainbow explosion to celebrate everything fun and marvellous! Inside is like Willy Wonka's Factory with one room full of edible trees and grass, and a chocolate waterfall! It's a giant overnight party that everyone looks forward to for months and months.
Who is invited?
Everyone! There are different rooms to visit so all my family and friends will have their perfect party, and also lots of cool new people to meet and mingle with. Preferably some hot European boys too.
Where does it take place?
On a boat! I recently went on a student 'love boat' and once it sets sail all your problems float away and you are absorbed by the sea and the atmosphere. It would be a huge boat like the Titanic where everybody has their own rooms with mirrors surrounded by light bulbs and beautiful dressing tables, and bright white bedsheets. Also minibars with goodies and cocktails, and welcome packages of beautiful bath treats and perfume.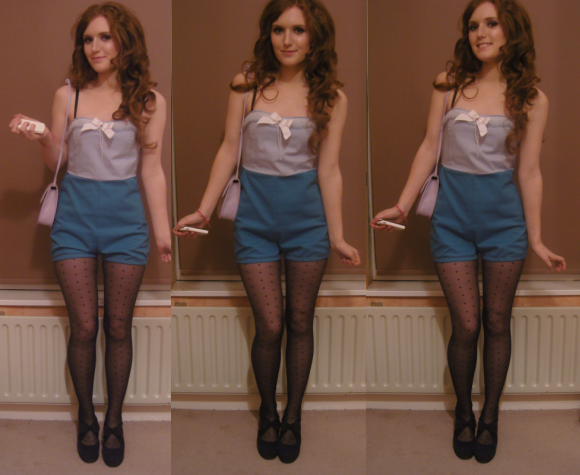 What are we eating?
Everything! At the start of the night everybody eats around a huge table. Down the centre is a conveyer belt where all different types of food travel down and everyone can help themselves.
Who gets to sit next to you? And why?
I'll have lots of seats to visit all my different friends and family. I can't choose! The seat keeps sinking and popping up at different places.
What is the theme or what is everyone wearing?
Everybody has to wear their favourite thing. It has to be the most fabulous thing they own and it will remain pristine throughout the evening even though there will be food fights and confetti bombs and popcorn cannons! My outfit changes whenever I visit a different room depending on the theme and the music.
Are there party favors?
Everybody gets different supplements for each party room. They get rave paint and glow sticks for the UV room and glitter for the rainbow room.
What's the play list for the night?
Different rooms play different things so everybody finds something they like! Each song is accompanied by videos on big screens and they are so good that no one stops dancing and the floor is made of clouds so nobody's feet get tired!
What are the hot topics of the evening?
Everybody finds love. It could be new or rekindled or existing love but everyone finds someone special that makes them feel incredible. They wake up with a smile and can always remember the night fondly.
Who is most likely to get drunk and dance on the table?
Me! I will have partied in so many rooms and shared a cocktail with everyone so I'll be drunk off happiness. There are special sky high bouncy castles so people can jump and dance way up high over the crowds.
Who is the last to leave?
Everybody has a lovely room to return to and the last people partying are my closest, favourite friends. We will go and eat pizza and candy before retiring to bed and waking up in a beautiful place.
For more of Selina visit her blog
Flying Saucer