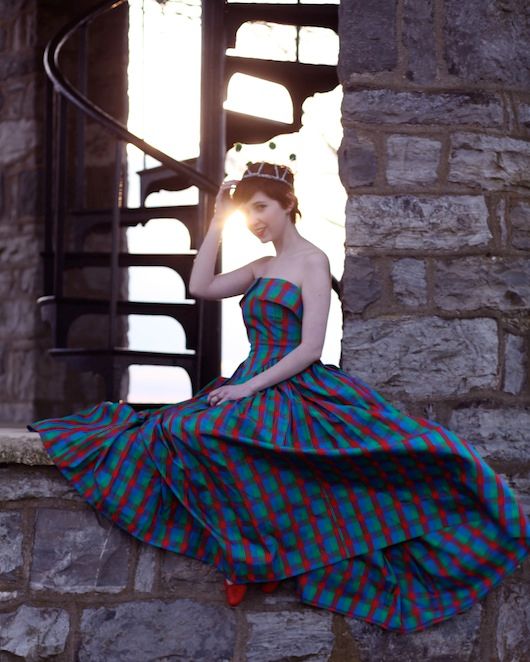 ASOS
recently invited me to re-visit prom through a fancy dress from their Marketplace. The
ASOS Marketplace
features a variety of highly curated sellers and hand-selected vintage pieces, so it can be a perfect spot to find that dress no one else will have at prom. Ironically, my own prom experiences were quite forgettable and I dressed in a manner to blend in! Still it was fun to mimic a fairytale for a day with this dramatic dress from
Madam Popoff Vintage.
We moved my senior year of high school and I went from the public school system to a private all girls school (culture shock). When prom rolled around I hadn't met any boys so faced with the gruesome option of a blind date I chose to go stag. My prom dress was a simple black halter bought at the mall—the first dress I can even remember trying on after browsing for a short time with my sister. It was priced under $100 and we used gift cards so I ended up paying nothing out of pocket. (If there are any pictures of my look that night they're hidden in my parents' basement...) Prom night itself was still fun—I rode in a limo with my friends, admired the setting in downtown Honolulu, laughed and even danced a little before ending the night with a slumber party. It wasn't how they like to depict prom in the movies, but I had a pleasant time.
If I went back or had prom again I'd still go stag, I might dance more, but the biggest change would be my dress. I was a shy kid in high school and my style reflected that. I'm still shy, but I'm much more comfortable in my own skin and I'd love to have worn something that made me feel special and unique. I'd definitely choose a vintage dress and something as dramatic as this one would have been perfect. In high school I was still figuring out how I wanted to present myself and simple black suited my shy personality. I'm still shy, but much more confident in my own skin so it would be fantastic to have an excuse to dress up and still show my personality...well a better excuse than snapping a few photographs and not having a floor to dance on!