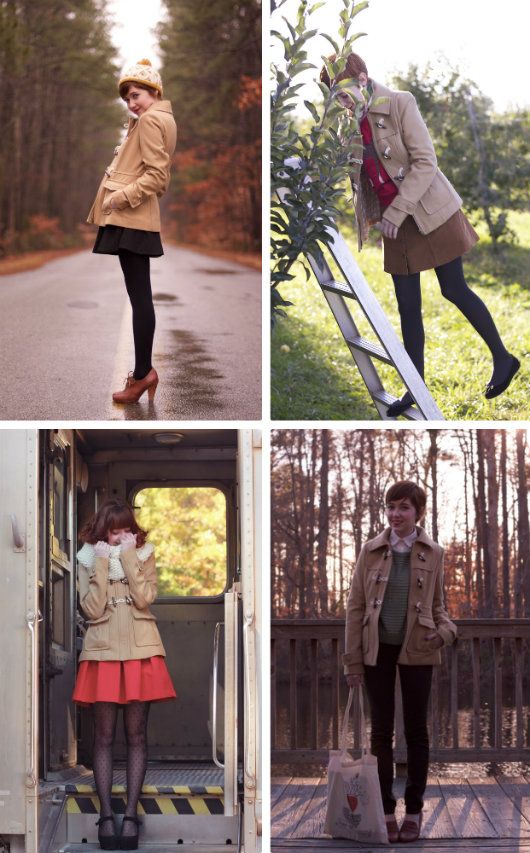 Previous outfit posts:
one
,
two
,
three
, and
four
.
One of the things I hate about fall and winter dressing is the need for coats and the fact that a reasonable person only owns so many coats, which means they won't match or suit every item in your wardrobe. It's not that you have to repeat them all the time, it's that they simply don't look good with everything. Yes, a basic black coat will go far but even wool with simple zipper fronts can look funny over your party dress. If your coat isn't longer then you have to think about coordination with whatever you're wearing underneath and if you enjoy fuller skirts you might have to choose between buttoning or zipping your coat all the way or have it look as if it is straining over the amount of fabric contained inside of it...Yet it's winter and while I can endure cold temperatures in skirts I can't go without a solid coat, so you do what you have to do. Like the above toggle coat (which I recently sold, although I was tempted to keep it): it is perhaps best suited for jeans and sweaters, but I did attempt to "dress it up" in the past with a red dress and sheer stockings. My favorite coat of course is my navy one from
Family Affairs
. I've worn it so much it's definitely beginning to show, but as far as coats go this one matches a number of different styles from the more casual to nearly formal.
Previous outfit posts:
one
,
two
,
three
, and
four
.