I've gotten a couple of requests for a summary hair post listing my past styles. Most of my posts are shot by me and I prefer head-to-toe photographs since the posts are about the outfits not my face, so sorry if I don't have close-ups of every style.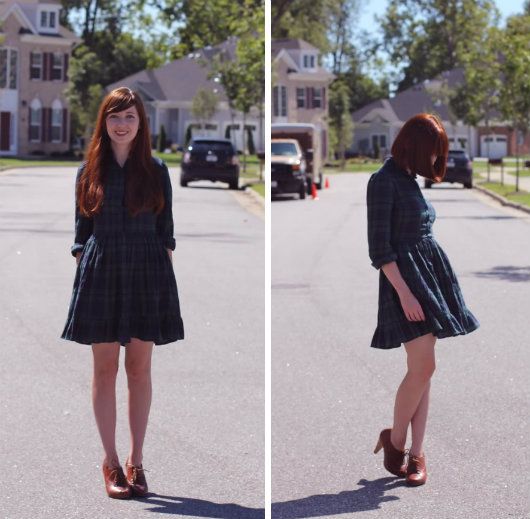 In high school I grew my hair long and then I bobbed it partway through college. Then I grew it long again and finally in 2011, I bobbed it again. Long then bob is a bit of a pattern for me. Other people tend to like my hair at a bob length best, but I enjoy the ease and variety of styles that come with long hair.
After I went for the bob I caught the "short hair bug" and decided it needed another chop, so I went for a pixie. The first picture was taken less than an hour after my haircut; I went for a longer pixie at first. This style was fun and have a lot of movement and options. I probably would have been happy with the longer pixie but not too long after that I visited New York and was offered a free hair cut by an amazing stylist who wanted to give me "the Jean Seberg." Under a black and white photograph of that actress I let him chop away and absolutely loved the result. For a long time I tried to maintain that cut, letting it get slightly shaggy and then taking in photos of Seberg to local hairstylists to get it touched up.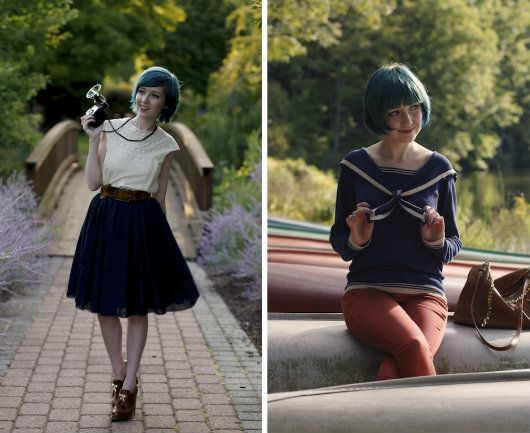 Last winter I decided to stop maintaining the pixie and began growing it out. I had friends trim the back of my hair on a regular basis to avoid getting a mullet, but let the sides grow without any cuts. Growing out hair is exceedingly boring, so this summer also led to my blue period; i.e. I dyed my hair a turquoise-y blue that some thought was green, but looked very blue to my eyes. Towards the end of the blue I cut my hair into a short bob.
Blue is a lot of maintenance and I didn't want to worry about that while I was in Northern Ireland, so shortly after cutting my hair into a bob I dyed it red. I'm still in the process of growing it out, but that doesn't mean I'm not touching it up at home to keep it from looking raggedy--bangs especially require a lot of maintenance.
Anyway, that's a summary of my hair in the last few years. Details on my blue experience
here.