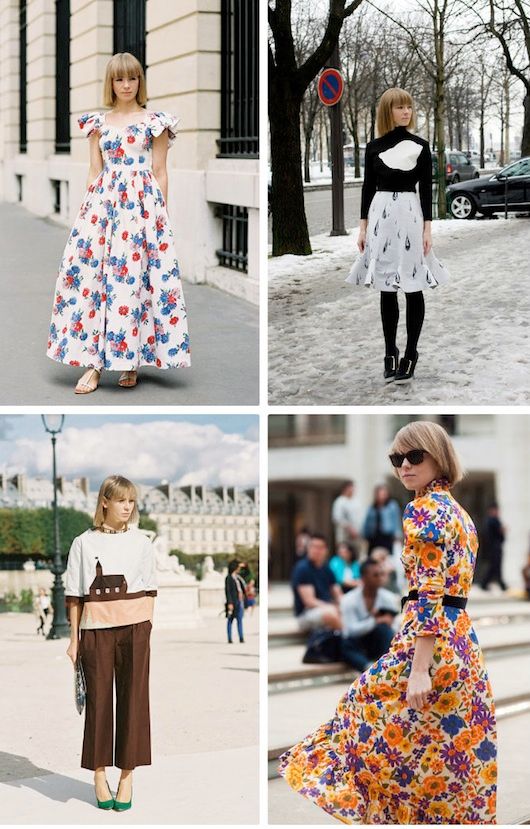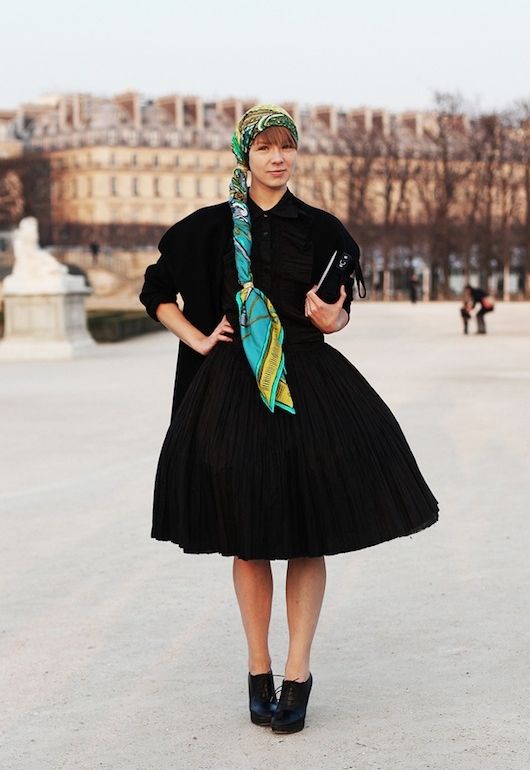 Lately, when one pictures fashion week it's often viewed as a circus--we picture hordes of "peacocking" bloggers desperate to get snapped by street fashion photographers who contribute nothing but a sense of desperation fashion week. I find this patently untrue, not because I'm a blogger, but because most often the biggest "peacocks" of fashion week are editors (see Anna Dello Russo) or socialites or other individuals in designer clothing who are friends with the photographers. Street fashion sites might feature young women who aren't celebrities, but as you see the same faces again and again and quickly realize the subjects aren't your "every girl." Blame for the crowds at fashion week never falls on the increasing number of photographers looking for subjects in Lincoln Center rather than exploring elsewhere in the city, nor the editors, who even if they don't pose, purchase photographs of NYFW street fashion to feature in their magazines and online.
If we are to blame anything for the crowds at fashion weeks around the world is it not the democratization of fashion and the accessibility of information? If bloggers are seen as attention-seeking fashion whores who don't contribute to the scene are we not actually condemning people who are not part of the "elite" for attempting to participate in something above them or daring to think their creative style expressions have merit? People who attempt to sneak into a rock show might annoy the band because it's costing them the price of a few tickets, but they're still seen as true fans willing to climb through windows and dodge security guards for the love of music. Yet, a non-editor who would dare to hang outside of Lincoln Center in a carefully selected outfit and type up their experience later is a nuisance. Increased crowds are largely due to the more ready access to information and spread of knowledge the Internet has allowed in more recent years and for this we mock bloggers who dress silly and take up space.
Another side of the street fashion phenomena that plagues fashion weeks (and the true point of this post) are the girls who make good. After a few years struggling to grow her brand,
Vika Gazinskaya
decided to attend the Paris shows while wearing her own designs--the strategy paid off. She was snapped in her uniquely proportioned pieces with her asymmetrical bob by one street fashion photographer after another and as her picture popped up on blog after blog interest in her designs went viral. While it might not have been her intent at first, Vika is quoted as saying that blogs and street style are a great way for a designer without a budget for advertising to bring attention to their label. From her first appearance in Paris in 2009 her line is now stocked Internationally in influential stores such as Colette, Net-a-Porter, and Moda Operandi.
While the speed of Vika's success might be attributed to street style blogs, her designs speak for themselves. Her line is unique and sometimes whimsical, like the "faux fur" scarves that resemble de-stuffed teddy bears and foxes--definitely a fresh perspective on fashion that contributes to the industry and is incredibly covetable. Still, this is one street fashion favorite and designer that both proves the merit to blogs and explains the drive of "nobodies" to get dolled up and snapped by the big names at fashion week.