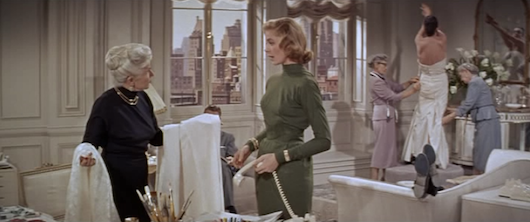 What to watch: Designing Woman
Why: Watch if you like comedies like How To Marry A Millionaire and 1950s fashion
Synopsis: Designing Woman starts as your typical romantic flick--boy meets girl, they fall in love, they even get married all while on vacation and then a funny thing happens on the plane back to New York "Marilla changes her clothes." Mike Hagen, played by Gregory Peck, has developed one idea of Marilla Brown (Lauren Bacall) on their shared vacation, brushing aside her mention of her job because it doesn't suit his image of her, but with a simple wardrobe change his world is rocked. He goes on to state that she changed her clothes "nine times in a day" and it's just the start of realizing that she isn't who he assumed she was and they don't have much in common. Marilla Brown is a fashion designer, which in movie terms means one jaw-droopingly 1950s gorgeous outfit after another from a full fur dress to sheer organza sleeves bigger than her head. The film turns quite comedic as they settle into domestic life in New York as her acting and dancing friends mingle with sports writer Mike's boxing and poker-playing gang of tough guys. Towards the end things get a bit slapstick, but overall it's a solid comedy with solid performances by both the leads and the sort of costumes vintage lovers will really enjoy.