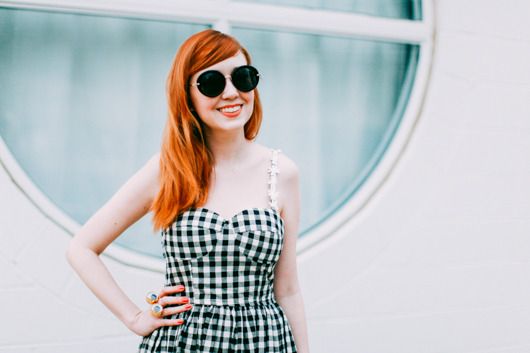 Gingham might be my favorite print. I have a handful of gingham dresses and still can't resist adding more to my collection when I find something special about the piece (like the little flower chain straps on this dress!). It always reminds me of Brigitte Bardot who boldly chose to get married in a pink gingham dress. Although I probably don't look it (I still can't figure out how to properly tease my hair), Bardot is
my main fashion inspiration
. Her style was quite sexy for the 60s but through modern eyes I find it the perfect mix of ladylike and bombshell. It's interesting to me how our version of racy and improper changes over time--from the
measuring of women's bathing costumes
to make sure the hemlines weren't more than 6 inches from the knee to bikinis being completely normal. So with Bardot inspired looks, there's still a sensuality to her style but it's pretty staid compared to our modern version of sexy. And I don't mean to completely dismiss modern versions of womanhood and body ownership, but rather "to each their own." After all in another fifty years people will probably find our current version of risqué to be prudish. As for me, I won't be dressing androgynous or hyper provocative any time soon because what appeals to my eye is nipped waists with full skirts and that perfect swipe of cat-eye liner.
P.S. This was also a final hurrah for these shoes for me--I've only worn them once a year since I got them so if you'd like them check out
my temporary blog shop
.