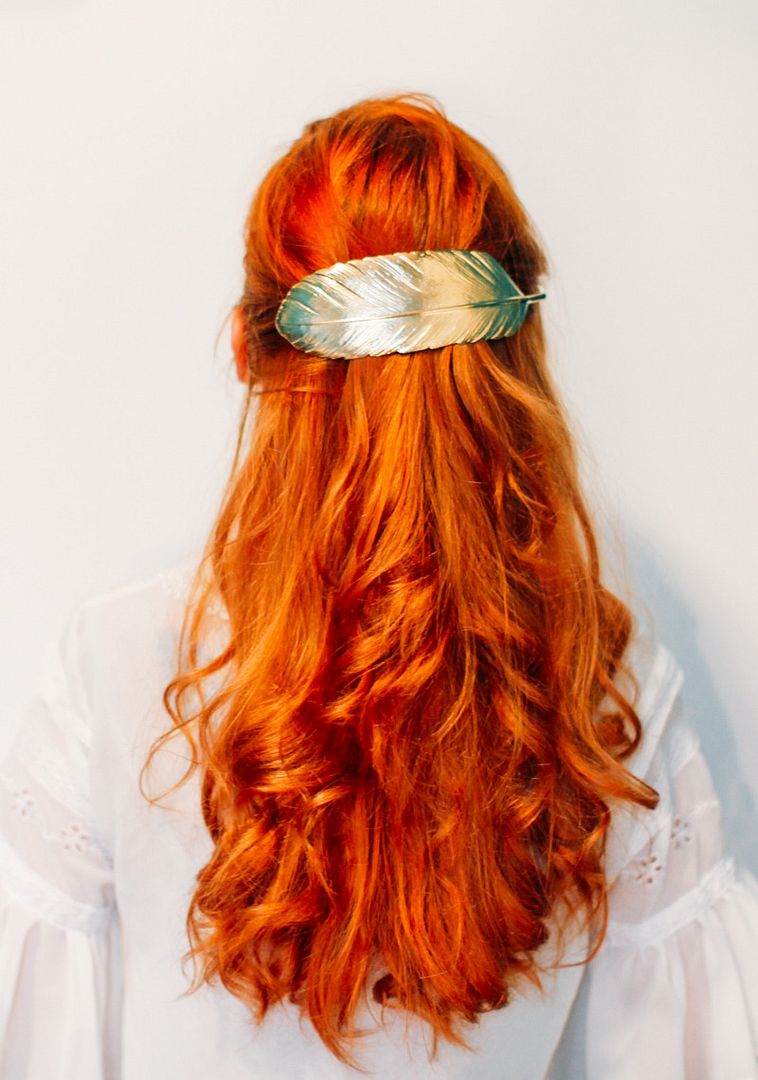 I recently received a few hair accessories from the lovely French brand
Les cerises de Mars
. The pieces are absolutely gorgeous, like
this oversized plume barrette
. The barrette is definitely my favorite piece, but it seemed daunting at first to find ways to style it. With a little experimentation I found three easy hairstyles that work wonderfully with this extra large barrette. Check out my two other hairstyles featuring the barrette and an explanation on how to get each look below.
Style one:
the half up, half down 'do. This one is a no brainer; skip your usual hairtie and use this large barrette to hold the top section of your hair in place. It's an easy style and the large barrette really elevates the everyday look of this 'do.
Style two:
sideswept. I feel like this is a style you see on the red carpet a lot, but not as much in person. It works the same as the half up 'do; just take the front section of your hair from one side, sweep it back and pin it in place with the barrette. Again simple, but dramatic--my favorite sort of hairstyle!
Style three:
the triple bun up 'do. A single bun would look out of place with this barrette and as much as I enjoy Sailor Moon, I don't want to channel "meatball head" so three small buns at the back were a perfect balance for the barrette. The buns are simple twists held in place with small elastics and a couple of bobby pins; they look best a little messy so just pin them loosely and allow small pieces to fall out.