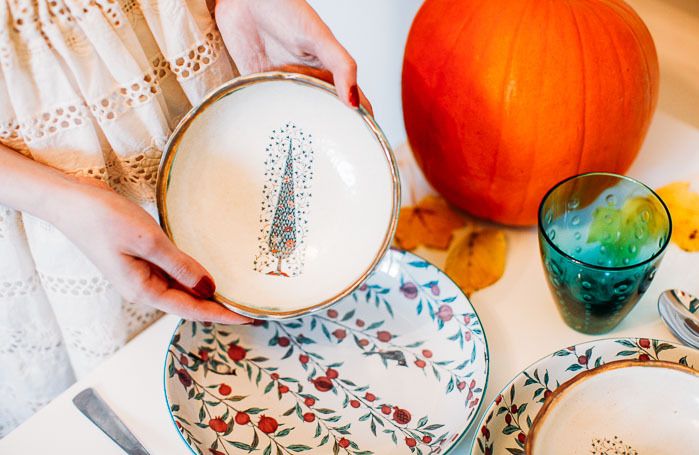 With our home being so small we've become quite selective in the things we bring into it. Choosing a sofa took ages, selecting lights was an equally lengthy discussion and research into the options, and because of this we still have a empty gaps in our walls and drawers in our kitchen as we wait to find the "right" pieces for us. So when I had a chance to partner with
Good Earth
for this post I was quite excited; their festive dinnerware fills a gap in our kitchen collection and with their focus on sustainable luxury I know the pieces are ones we'll collect now and treasure forever. Everything is handmade and every design has a story. Most of the pieces I chose are from the
Firdaus collection
which features a lyrical interpretation of the Mughal cypress tree and a repeating pomegranate motif. My favorites are
the irregular little aqua bowls
in the shape of a pomegranate fruit and trimmed in gold. They remind me of Kintsugi, or the Japanese art of repairing broken pottery with bits of gold--instead of hiding flaws the original cracks and splits become highlighted with thin strips of gold making the piece even more valuable after the break. Of course these pieces I hope I never break!
We've been using ours lately with all the good fall comfort food staples--cheesy pastas and soup recipes from my mother. The food warms you up on a cold day and the colorful
Good Earth
dinnerware adds a bit of light even when our weather's miserably wet and grey! And all of the pumpkins we bought have been put to good use; I've been baking the seeds and trying out different flavor combinations on them. Our favorites are probably the more indulgent chocolate covered seeds; easy recipe below if you've never baked pumpkin seeds before.
Salty Meets Sweet: Baked & Chocolate Covered Pumpkin Seeds:
-start by separating your pumpkin seeds from your pumpkin guts by rinsing everything in cold water in a colander; the seeds should slip free pretty easily
-after you have your pumpkin seeds pat them dry and place them on a baking sheet, drizzle with oil and salt and then mix them together to make sure the seeds are well coated
-bake at a high temperature (350 F) for 8-12 minutes; it's best to keep an eye on them because some will bake quicker, you want them golden brown
-allow them to cool before eating or adding chocolate
-for the chocolate coating just melt chocolate chips and toss the cooled pumpkin seeds in the chocolate until they're coated
-spread the chocolate covered seeds on a baking sheet lined with wax or parchment paper and place in the fridge
-the chocolate should harden in around 15 minutes and then they're ready to consume!