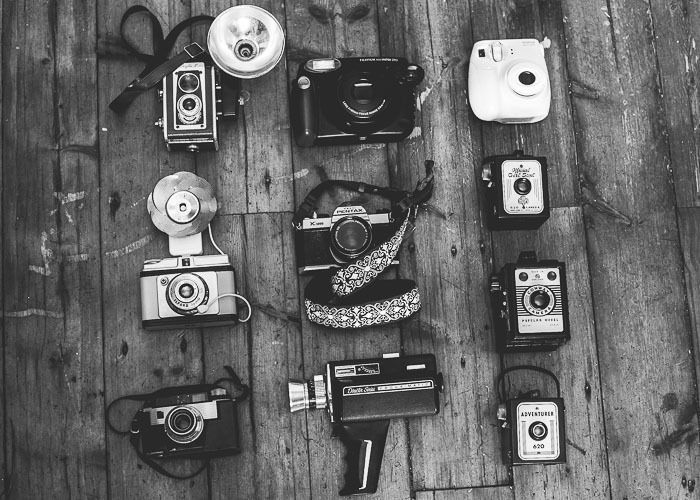 Confession: I have this thing for cameras...
Most of my collections are confined to my wardrobe; like my
fox clothing collection
or my addiction to novelty purses (they're so ridiculous, but I can't stop buying them....). This is because my wardrobe gets "worn" and "used." Clothing items are also less fragile. Those things matter when you move a lot. As I do; I think the most recent tally is seven houses in the last six years. I've never been a minimalist, but I avoided collecting things that were just for decoration. In fact my clothing often became my decoration as I hung vintage dresses on the walls instead of pictures and held the books of my shelves together with high heels. Recently though I've realized that another collection has unintentionally been growing: my camera collection.
I didn't start this collection young
, in fact I didn't have a camera until I was a senior in high school, but I loved it immediately. In college I started borrowing my father's old Pentax camera (the same camera he had used when he was in college and later I got his old tripod as well) and spent a lot of time playing around with that. Eventually I upgraded to a basic SLR when I broke my original digital camera and then for many years that was it--one SLR, one film camera. Then a few years ago a friend gave me her family's old Polaroid camera and I enjoyed that one so much I bought an Instax since the film was cheaper & more reliable. Then I met Thomas and the camera collection really started to blossom. His first present to me was an old Super 8, then in the summer we found another vintage camera together while antique shopping, and at Christmas a beautiful Conway box camera was wrapped up under the tree. Since then we often seem to be buying cameras for each other. He found an old Girl Scout camera for me because I have an old Girl Scout uniform. I got him the larger Instax camera because he liked the mini so much and found a teal 88mm that still winds and makes the coolest noise.
What do we do with all of these cameras?
Some we use, some we are planning DIYs with, but most just decorate our shelves and occasionally see daylight when I use them as props in photographs. We just enjoy our cameras the way any collector enjoys the random object that appeals to them. I didn't even photograph all of our cameras for this post, some were on shelves out of my reach, but this is the bulk of our collection. The Graflex is the oldest one in our collection; found for a steal at an antique shop in Pennsylvania and carefully transported back to Northern Ireland in Thomas's carry-on. I'm a little disappointed in myself that with my whole camera fascination (one of the reasons I love collecting them is seeing how they work/how people used to take photographs; like the way you look "down" into the tops of old box camera instead of in the backs like today's modern cameras) that my camera clothing is lacking! I do have one novelty purse (by Betsey Johnson) and a few camera necklaces, but it seems like a pithy amount for someone with a dozen novelty purses!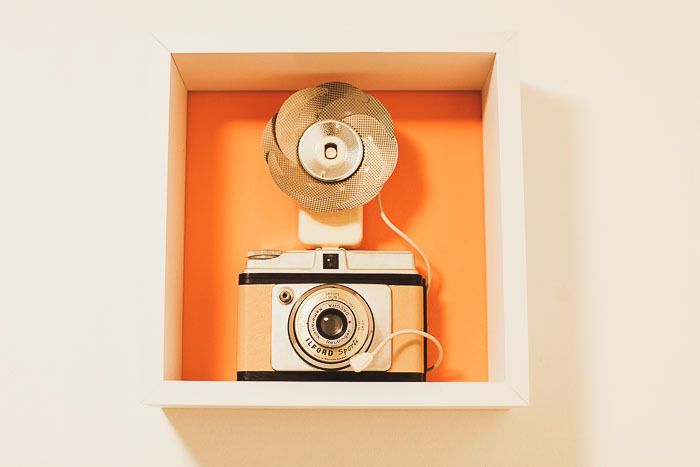 details:
Choies dress
& vintage brooches
*all pictures by me*