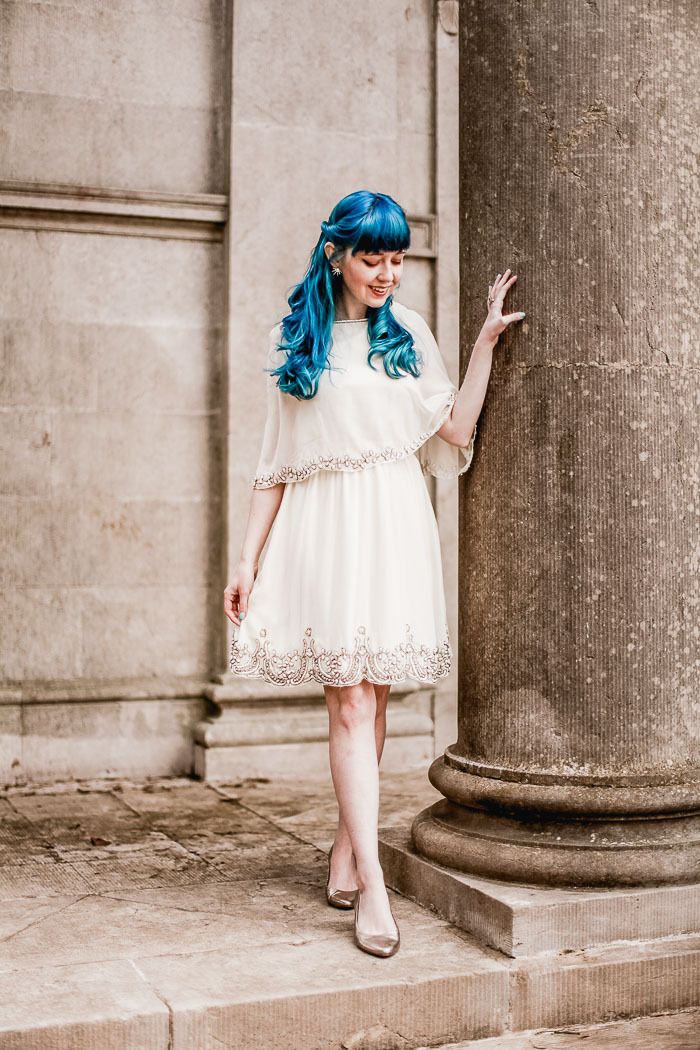 I'm having a bit of a caped moment. A double caped moment to be exact. First this lovely dress arrived from
Gastbylady
with its lovely sheer capelet top and I wanted to wear it right away despite our brisk weather. Tights and a good coat would be the sensible direction to go, but I liked the idea of bare legs and not fighting the shape of the dress. Then I spied this star and planet-spangeled cape in the back of my closet and thought...why not...
double cape
? I think it ended up being a very fun combination, although also quite theatrical! Gatsbylady is a family run business specializing in 1920s inspired beaded dresses made in house in London (and they have a petite section!). They're exactly the sort of dresses you need for your next costume party or just a beautifully detailed evening out dress. Even with all those beautiful and sparkly options (and I am a sucker for sparkles) I was drawn to this dress because it seemed like nothing else in my closet; it's a unique shape and style and although vintage inspired can be styled outside of the original decade it's from. It will probably be my favorite "dinner out" look for awhile because it's wonderfully comfortable and manages to look quite nice without the need for heels! I quite like being able to dress up a bit, but stick to my comfortable flats!
Also, I have a special deal for you.
If you're intested in a piece by
Gatsbylady
use code "FREESHIP0316" to get free shipping on your order in the US & UK.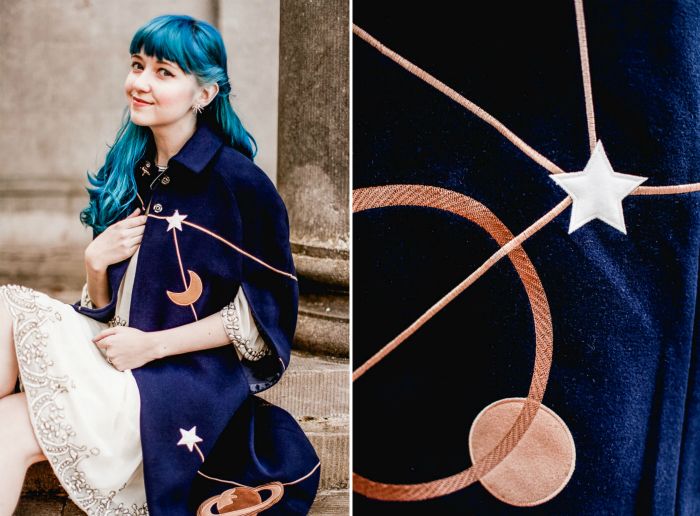 One of my ultimate, although perhaps less practical, style influences is to look like a Pre-Raphaelite muse. Just Google "Pre-Raphaelite art" to get an idea of what I'm talking about if the reference isn't familiar to you. The basics for me are long flowing hair and Grecian-draped garments and a sense of drama all blended with an appreciation for the natural world (think flower crowns, posies, water nymphs, wind, etc). Of course dyeing my hair blue seemed like a big departure from that vision because while I might ultimately want to look like a Pre-Raphaelite painting I also get bored/distracted sometimes and go for some contradictory styles! But this cape makes me feel like I still can work the look, albeit in an unnatural color/more modern take on the style. It's also one of those important lessons that you learn by going through things. When I dyed my hair blue I was picturing myself wearing more bright colors and modern styles. But with the longer blue hair actually on my head I find myself playing around and trying different styles that I wouldn't have mentally put together. I had to be able to see it to know that it would "work." Which is a good reminder to not limit ourselves, but to continue to explore and try new things (fashion-wise or otherwise!).