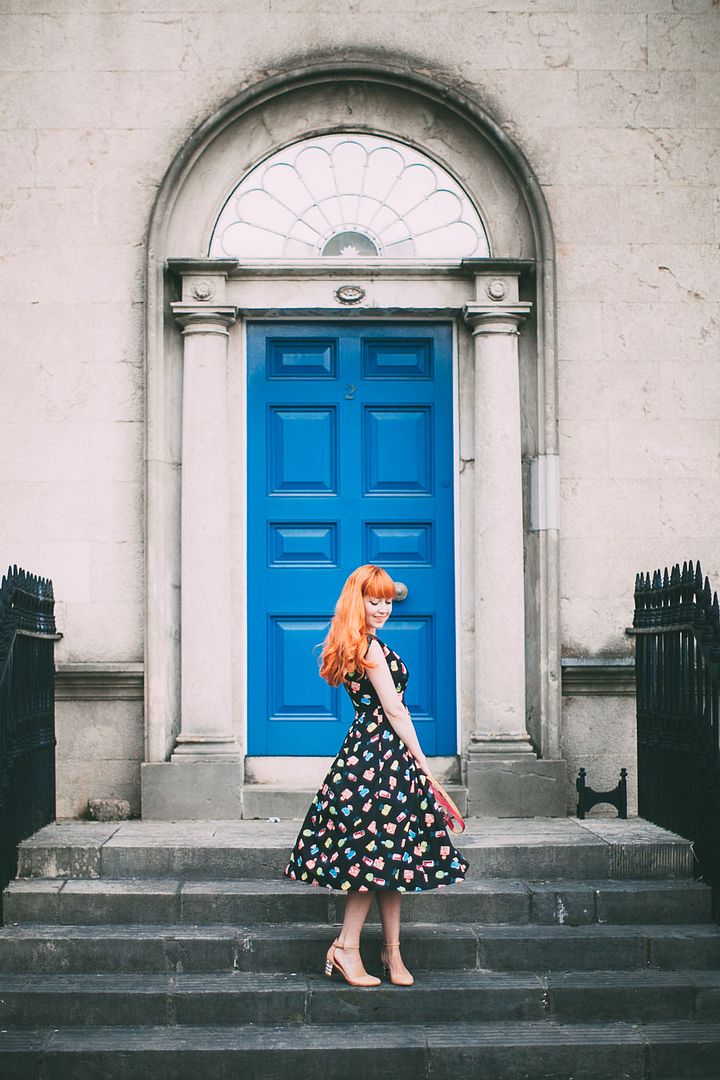 Today I'm wearing a couple of new pieces from two of my favorite local brands:
Brit-Stitch
and
Emily and Fin
.
Emily and Fin is my go-to for vintage inspired pieces in the most amazing prints--like
this sweet perfume bottle print
I'm wearing today. I always wanted to collect vintage perfume bottles; they're so lovely and come in so many different colors and shapes, each more charming than the last. However this dream has always been put on hold since they're also quite delicate and I move frequently (I actually had
one
vintage perfume bottle with delicate metal lattice and it broke on my move to NI...), so this dress with it's delightful print feels like a consolation for not being able to have the real thing! Another thing I like about Emily and Fin's creations is that they will use the same print on several different retro designs; you can also get this print in a blouse or fitted skirt dress if that suits your style more...or if you really love it you can fill your closet with multiple pieces in the same print! I paired the dress with a sweet new purse (and accessories) by Brit-Stitch from their
With Love
collection. I already had a classic milkman style purse by Brit-Stitch that I use loads, so I know this one will be similarly loved in my purse collection and it was monogrammed on the handle with my name! Their vintage style bags come in a variety of shapes and sizes (I'm already coveting one of their backpacks) and a rainbow array of colors.
If you're a fan of these brands then today you are in luck. We are giving away one Brit-Stitch purse and one dress by Emily and Fin; the winner will be able to choose their favorite from both lines!
To enter the giveaway click here.
This giveaway is open to all readers and the winner will be chosen by random on Monday, August 15th.