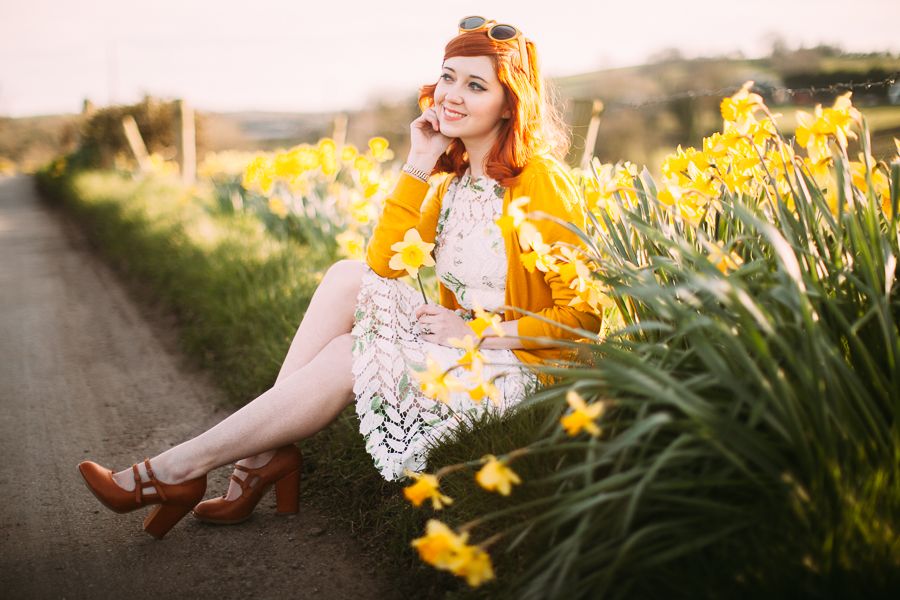 I've loved vintage shopping since I was a teenager. Poking around dusty and crowded antique malls always felt like the best kind of adventure and sometimes you'd find that souvenir that you not only couldn't resist taking home but also couldn't stop using--or in the case of the vintage fashion obsessed,
wearing
. Over the years I feel my love of vintage shops has only grown. In college I did most of my hunting online via eBay and Etsy and the chase was just as fun, only instead of hunting all day to find one treasure I found hundreds within seconds and had to resist spending every penny I earned on acquiring them all. When my husband found a vintage engagement ring for me it couldn't have been more fitting and in the last few years I find myself hunting down vintage baubles as much as clothing. From classic gold-toned brooches, to quirky deadstock earrings, and nearly every locket I can get my hands on. When I got my
wax seal necklace
from
Stacey Fay Designs
I couldn't resist checking out her
vintage selection
and taking this lovely little locket bracelet off her hands as well. I don't usually wear a lot of bracelets, but this one is so lovely I feel like it could become a staple--I just need to find something sweet to put inside. I think sometimes people think vintage is very staid and "traditional" perhaps a lot of gold lockets and pearl necklaces, but I tend to find vintage jewelry more varied and unique than modern jewelry shops. Partly because you're seeing a mix of decades and influences that are so diverse; a piece from the 1970s isn't going to look anything like an older piece from the 1920s, but you'll find them rubbing elbows in the right shop. Stacey Fay has a really fun mix, ranging from
classic lockets
(that I can barely resist) to
Art Deco masterpieces
from the 1920s begging to be worn again. Do check her shop out and you might just walk away with a wearable piece of history.