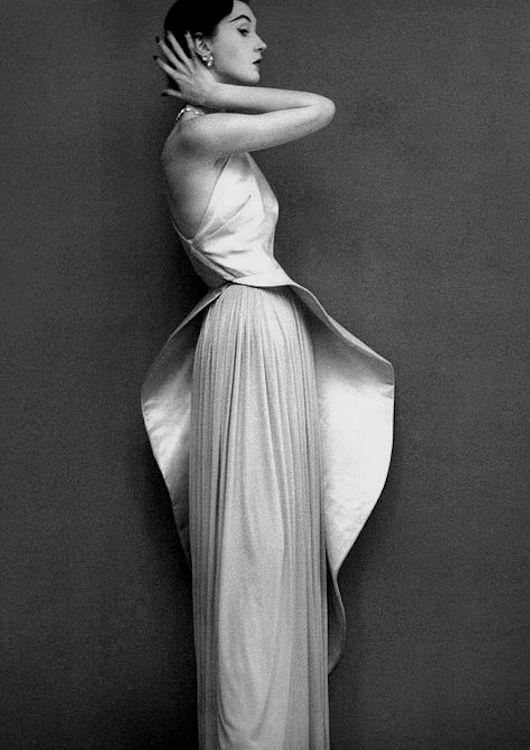 Gres is one French haute couture house that I desperately wish was up and running today. We get to see Chanel and Dior get re-worked by different creative heads, but for every line that survives there are dozens that fall into obscurity. Gres is one such line often forgotten by the average fashionista of today--however her unique approach to design was groundbreaking and is still influencing designers. Personally, I just dream of owning something as gorgeous as one of her Grecian-draped dresses.

Gres, was officially launched in 1942 by Alix Barton. She was formally trained as a sculptor but began her work in the fashion industry as a milliner. She worked largely with silk jersey and one dress could use from 42 to 68 feet. Her pleats echoed classical Greek scultpture and she said herself that she was a sculptor who worked with fabric. Bill Blass stated, "[fashion] only becomes art in the hands of Madame Grès." She also was one of the first designers to use cutouts in her work, but she used them strategically to display skin through windows of fabric in place of jewelry. Simplicity of line is at war with the difficulty and detailed construction of each piece, which stands alone as a work of art that both flatters and enhances the female form. This appreciation for shape often came from working directly on the body--draping on live models, contouring to their natural forms. She even encouraged her designs to be worn without underwear; directly against the skin (which is notable when you consider the highly restrictive and forceful undergarments popular in the 1940s-50s).

Although she worked into the 1980s, her house was always about classical style and she was not swayed by the fads of fashion. Her style (pardon the pun) was set in stone from the early days of her career. The house is largely considered extinct now, although the name was sold to a Japanese company and designer Koji Tatsuno serves as creative director of the line.