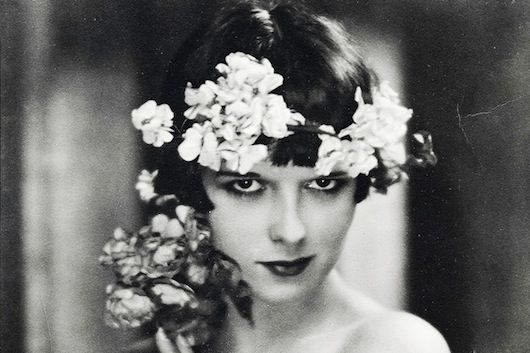 I recently spent a Saturday tucked away in my AC'd home doing laundry and watching documentaries. One very engrossing documentary was
Looking For Lulu,
an hour-length watch about silent film star Louise Brooks (narrated by another favorite actress, Shirley MacLaine) that can be found online
here.
I stumbled across some of Louise Brooks films during college when I went through a silent film phase and while I enjoyed the high energy antics of Clara Bow there was a depth of emotion in Brooks' acting that stuck with me. While I've read a bit about Brooks before, the documentary featuring friend and family interviews and some of Brooks' own words, was a more in-depth peak into her life and personality than I had previously had. A woman often more remembered for her iconic hairstyle than her films lived as a life as dynamic and tragic as the characters she portrayed.
Louise Brooks was in many ways a quintessential flapper--she even began her career as a dancer and performed in the Ziegfield Follies (a stage show known more for the skimpy costumes and beauty of the performers than choreography). Despite her quick rise to fame in her youth and her undeniable talent, Brooks burned bridges with her personality and refusal to give in to bullying. Her most notable career move was equal parts disaster and genius. As studios began to move into talkies Paramount tried to pressure the actress into a new contract with a pay cut, Brooks refused and went to Berlin on impulse where director Georg Wilhelm Pabst was waiting to cast her as his Lulu in
Pandora's Box
. Paramount spitefully blacklisted her and she would never again be the golden girl of Hollywood. However, the two films she made with Pabst (
Pandora's Box
and
Diary Of A Lost Girl
) secured her present legacy. Both films were shocking in their time and explore themes of sexuality and society that films still struggle to depict accurately today. They're beautiful films that stand outside of time and when watching them Louise's delicate style of acting quickly makes the viewer forget they're watching a silent.
One of the most arresting points this documentary makes is: Louise Brooks is not a success story. She rose to fame and fell from it. After starring roles in big budget films she was forced to take small roles in B-films before retiring from the industry when she was barely 30. Her life had further downward spirals and she spent a good portion of time turning more reclusive and addicted to alcohol. Towards the end she did recover to the point of writing about films (most notably her experiences compiled into
Lulu In Hollywood
) and working with film historians. Still, despite her young rise to fame, her talent, and brilliance she spent much of her life destitute and alone. We remember her fondly today, noting how ahead of her time she was, but we don't like to acknowledge that she is the lost girl of beautiful destruction she played in her best-remembered films. Talent and hard work don't guarantee success. Being right, standing up for yourself can be your downfall. I don't think a dramatized movie of her life would be successful--Hollywood would rather package us pretty stories of people who struggle, work hard, and ultimately triumph (they get the girl, the dream job, etc). But it's a misleading story, not everyone is responsible for their tribulations...