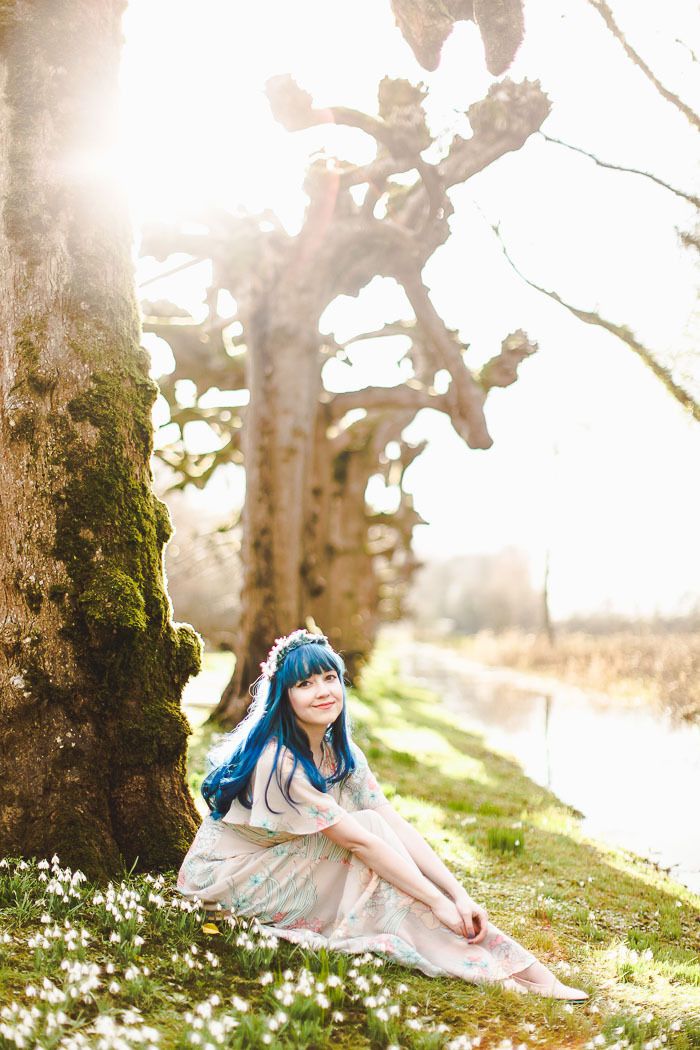 Snowdrops are one of the first signs of spring, so when Thomas's mother told us the snowdrops were blooming we knew we had to pay a visit to the Argory for their lovely "snowdrop walk." As the snowdrops start to blossom here in force you almost feel as if you could be walking on a white carpet of their petals. We took care not to crush these flowers however, but snapped a few photographs around them on a lovely, sunny day. It's still too cold to go without a coat, but I'll take the snowdrops as one more promise that spring is on its way and warmer weather with it!
Minus the coat outfit is how I'd like to dress with my blue hair nearly everyday. Not because I don't like the coat (it's lovely and so soft!) but because I'm just sick of coats and tights and layers in general. Just give me all soft tones and a flowing dress so I can feel like a spring fairy! I've been trying to not buy a load of clothes to "match" my new hair since I won't be blue forever, but I couldn't resist
this maxi dress
especially since I got it on sale. I found it through
Love The Sales
; a site that gathers sales from over 500 retailers into one spot for you to browse. It can overwhelming in the options (so many stores!), but it has lots of tools to narrow your search and it's so handy if you're looking for a deal and want to resist buying new and full-price pieces. I can't wait to wear this dress on a summer day, barefoot along some sunny shore...