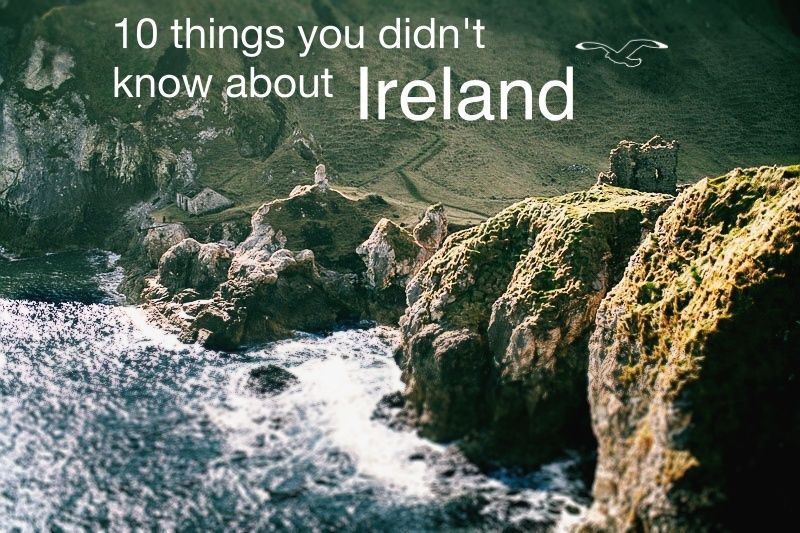 In honor of St. Patrick's Day I thought I ought to do at least one or two Irish themed posts this week since after all I do live on the Emerald Isle! I really love living here and there's so many wonderful things about Ireland that people don't seem to know and beautiful locations that are under appreciated. I'm working on some travel posts around Ireland, but for today here are a few random facts that you might not know about this beautiful island.
1. It's two separate countries.
When I say Ireland (in this post at least) I generally mean the island of Ireland; that island is made up of two countries Ireland and a smaller country in the north, Northern Ireland. I live in the latter and am still constantly surprised by the number of people who don't realize it is a separate country. Ireland uses the Euro as their currency while Northern Ireland as part of the United Kingdom uses the pound. Phone plans for Northern Ireland will work in England and Scotland, but you can't get service if you drive over the border. It's really no different than West Virginia and Virgina, but a lot of people still seem confused by the Northern Ireland/Ireland difference as evidenced firsthand by people who try to send me packages and letters marked Ireland (they never find their way here).
2. The Titanic was built here.
Maybe this is just one fact I didn't know until I visited here, but that world-famous ship was actually built and launched from Belfast. As my friends here are fond of saying, "it was fine when it left us." Anyone interested in the history of that famous vessel will want to visit the Titanic museum in Belfast which even offers an afternoon tea in opulent surroundings with a replica grand staircase from the ship.
3. There's a lot of castles.
And Manor Houses! There's so many castles and old stone houses that many aren't even seen as landmarks or that special. Tayto is a local brand of crisps (or chips for the Americans) and they're made in Tayto Castle which is more than 500 years old! Some of the cool manor houses near me have been converted into office space. It's awesome to see old buildings being re-used and kept in good condition, but it's wild how ancient some buildings are compared to what is considered "historic" in America.
4. Some of your favorite films and television shows are filmed here (and others weren't).
Any
Game of Thrones
fans out there? Well many of those epic scenes from the series were shot in Northern Ireland; Winterfell is actually Castle Ward in County Down, Tollymore Forest Park is the Haunted Forest, Dragonstone was Downhill Beach, etc. And that final scene in
Star Wars
? That's Skellig Michael (with zero Photoshop/CGI it really just looks that epic), an island originally inhabited by monks. The Cliffs of Moher are a popular film backdrop used in
Harry Potter
and
The Princess Bride,
to name a couple. In comparison, many popular "Irish" films today don't feature Irish actors (ahem,
P.S. I Love You
) and weren't even shot in Ireland; like
Leap Year
which used a green screen for nearly every scene in the movie set in Ireland.
5. Nightmares are born here.
Not to be overly dramatic, but there's clearly something in the Irish air that gets the imagination going. For example, Halloween has its roots in the Gaelic festival of Samhain marking the end of the harvest season and beginning of the "darker half of the year." Even the roots of jack-o-lanterns start here, although instead of carving pumpkins they carved turnips (which is much more difficult but something I'd love to attempt one Halloween). Ireland is also thought to be the origin of one of the first vampire stories. Bram Stoker was believed by some to be inspired by a local legend for his Gothic novel
Dracula.
Bram Stocker didn't seem to have to look outside of his native Ireland for vampire lore; Abhartach was a 5th century blood thirsty Irish warlord. The people conspired to kill him but he kept rising from the dead, eventually they buried him upside down under a large stone and that seemed to do the trick. Today, this stone and burial site can be found between the towns of Garvagh and Dungiven.
6. Ireland is the only country in the world that has a musical instrument, the harp, as its national symbol.
The harp is the oldest official symbol of the country, although the shamrock is the more commonly recognized national symbol. The shamrock has been linked to Saint Patrick who used it to illustrate the Holy Trinity. And while there is a tradition of wearing shamrocks on St. Patrick's Day first recorded in 1681, from living here I can say that people don't pinch you for not wearing green on St. Patrick's Day! The Americans came up with that idea, although it does have origins in legend (apparently leprechauns liked to pinch people, but they couldn't see green so if you were wearing green the leprechauns couldn't pinch you; e.g. wear green or Americans will pinch you...).
7. You can't get Lucky Charms on the Emerald Isle.
Or at least you can't get them easily. It's sort of funny that a cereal that uses a leprechaun as a mascot and features clovers and rainbows and is advertised as "so Irish-y" isn't available in Ireland. Some people found the mascot offensive, others just didn't like amount of unnatural ingredients and sugar, and the result is now Lucky Charms aren't offered in stores. Of course with the modern world being what it is, if you are desperately craving the Charms I'm sure you could order some online.
8. It has some really, really old structures.
While Ireland might be able to boast one of the oldest pubs in Europe (Sean's Bar in Athlone has been around since 900 AD), it can actually do even better than that with stone structures that pre-date Stonehenge. The Newgrange passage tomb in County Meath was constructed around 3200 BC, making it more than 600 years older than the Giza Pyramids in Egypt and 1,000 years older than Stonehenge.
9. The Irish love craic.
"Craic" pronounced crack is a Gaelic word which basically means the good time/fun. "What's the craic?" is the most common greeting or conversation starter over here (at least amongst Thomas's friends!); it's basically the equivalent of "what's up." But to an outsider it might initially sound as if everyone is asking about crack cocaine...
10. Irish is the sexiest accent in the world.
This was a joke between Thomas and I when we were dating; Thomas said something along the lines of "you're so lucky, you're dating a man with the sexiest accent in the world." I laughed and replied, "that's ridiculous, I'm going to Google that." Well
Google doesn't lie
, Irish has been voted the sexiest accent in the world and
Northern Irish is sexiest
in the United Kingdom! I thought for sure Scottish or Italian would win...