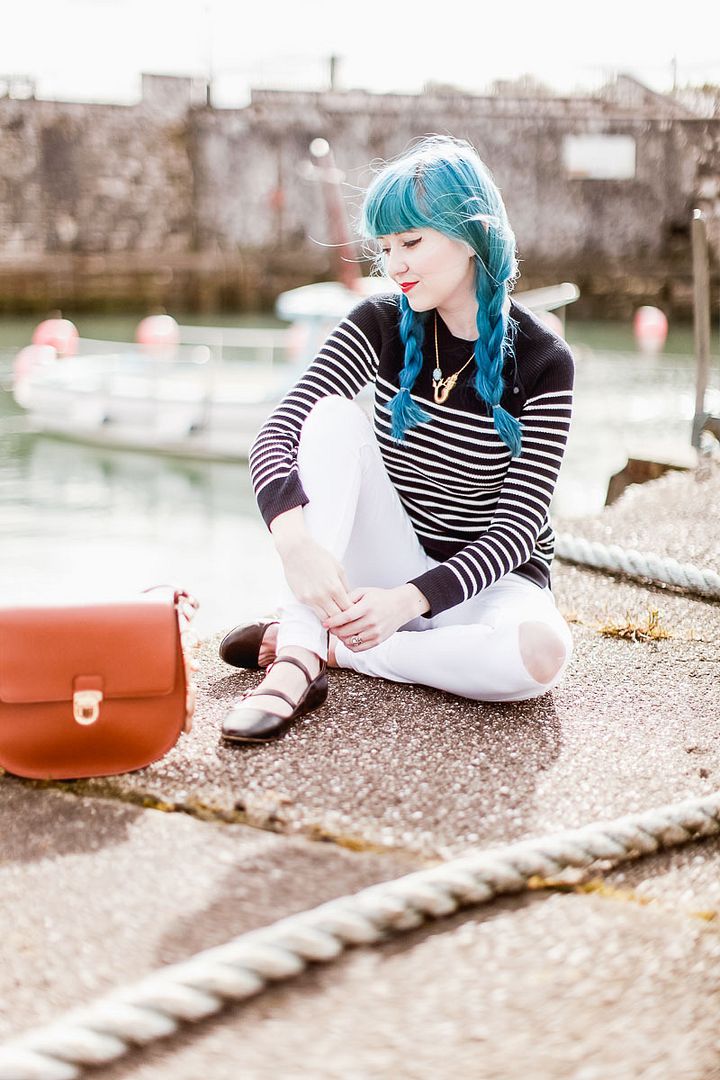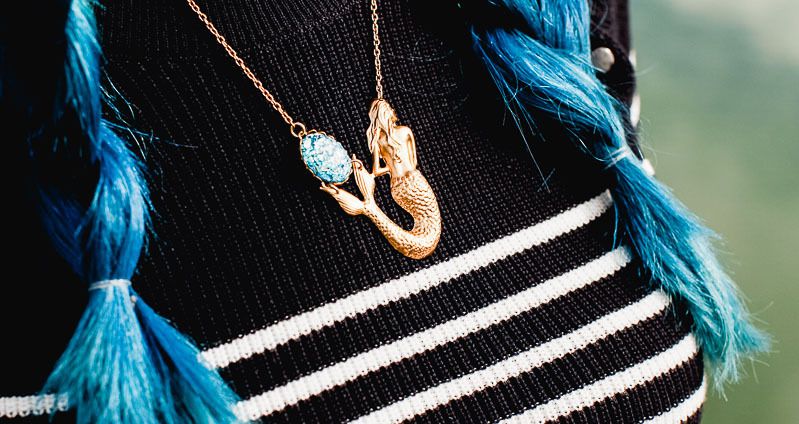 My blue hair makes me feel like a mermaid and has inspired so many sea-related accessory and clothing acquisitions!
Mermaid necklace
? Check! Sea horse novelty purse? So there. Crabby key chain? Yes, please! Dorothy Perkins satisfied a number of my nautical cravings with the classic pieces I'm wearing today. With all of the mermaid and nautical vibes going on it was inevitable to take the whole theme-look to a harbor. I do live on an island after all; I love that it's never too far to drive to the ocean. The jeans and sweater are also one of my more practical spring ensembles; light enough to enjoy the sun, but warm enough to not be shivering with every breeze!
I know I talked about this a few posts ago, but with jeans on my legs it's still on my mind: denim trends. As I said then retailers are predicting and hoping for an end of the skinny jean and a rise of wide leg trousers; culottes are supposedly very hip this spring. I'm not really anti-wide leg denim and flares, but I have been wondering: would Audrey Hepburn wear them? I've actually been Googling "Audrey Hepburn culottes" and other equally silly things to try to see if that ever-so-classic-and-cliche icon could be seen in any and so far there's nothing. (When we think of Audrey's style we do focus on what she was wearing at her peak in the 50s and 60s. Trends then were for a slim cut/fitted trouser, so in some ways it's silly to expect to find her in a style anomalous to the period she lived in. However, Katharine Hepburn also made films through the 50s and 60s and while on camera she was seen in nipped waist dresses, off camera she loved to lounge in wide leg trousers. So I think the case can be made that it was also a personal style preference that kept Audrey in the slim trousers.) To me it seems that you can say what you will about trends, but there is such a thing as
classic style,
timeless pieces that will look good now and in ten years. And I'm not convinced culottes age well! While I might stray a bit from those classic looks with blue hair and the odd novelty purse, I do find it incredibly inspiring. A.H. probably wouldn't rock my ripped jeans, but other than that little detail this outfit is right out of her (or Brigitte Bardot's) playbook. At the end of the day, a striped sweater and great pair of jeans really will never go out of style...