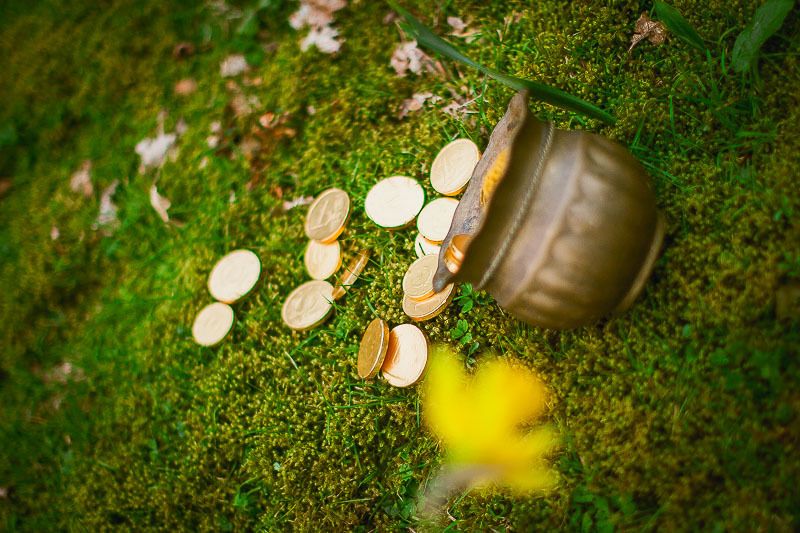 Happy St. Patrick's Day!
I found the pot of gold at the end of the rainbow and since I'm rocking the green today the leprechauns won't be able to see me to get their revenge (although the hair color is only an editing trick so they might be able to see me after all)! Or so some of the more modern lore of leprechauns would have you believe. In very old Irish tales leprechauns weren't very significant characters were just rather like other mischievous sprites who liked to play tricks and if caught could grant three magical wishes in exchange for their freedom. Prior to the 20th century they were generally held to wear red; according to Yeats solitary fairies like leprechauns wear red while trooping fairies wear green. Although they are quiet beings who are mostly occupied with making and mending shoes Yeats also tells us they find and appropriate "treasure-crocks, buried old in war-time." I stumbled across a particularly good pot since my coins are chocolate which are far tastier than gold.
A classic cable sweater and sweet green skirt make for a perfect gold-hunting outfit! The skirt is from
Book of Deer
and like every season I'm in love with designer Eilidh's creations. I'm so glad I found her brand a few years ago, because every season she makes the type of clothes I love to wear. This summer's collection feels especially fitting for St. Patrick's Day and Ireland in general. She was inspired by the magic of lucky charms; both the candy and more superstitious symbols. Each piece of Book of Deer's SS16 collection features embroidered and hand-drawn lucky motifs, from horseshoes, shamrocks, magpies to pennies, ladybirds, and black cats. My favorite pieces are probably
the skirt I'm wearing
and the
Rainbow dress
featuring sweet Lucky Charm embroidery on classic chambray--it's a basic dress with the perfect sprinkling of detail to set it apart.