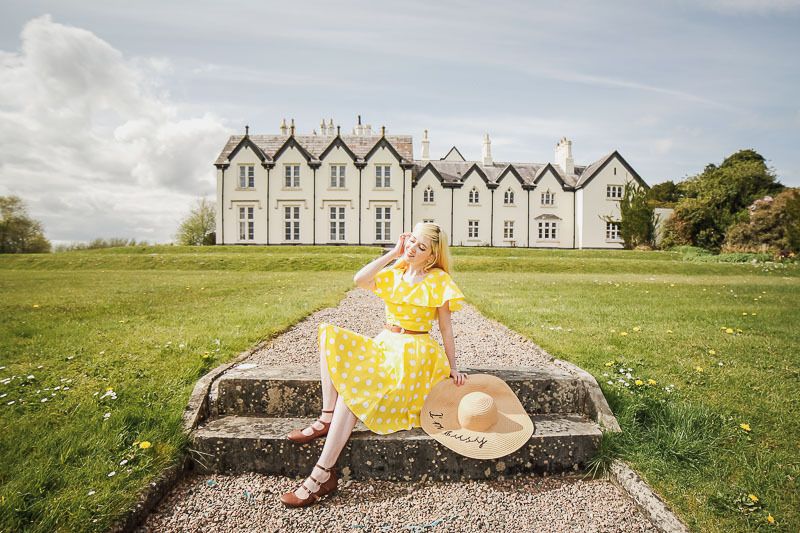 Well it's not exactly itty-bitty or a bikini, but it is a yellow polka dotted dress perfect for early summer days!
My dress is a gift from Instagram-friend Jenny, who you may know better as
SheLovesDresses
. Well, Jenny not only loves dresses, she also now designs and makes a number of
pretty vintage inspired dresses
. The collection is handmade in California, with each piece designed, patterned, and sewn entirely by women. On the outside it's a pretty collection of retro dresses, but it's really so much more than that--the Moving Castle collection was "created especially for vintage lovers who are vastly underrepresented in the fashion industry." It actually reminds of the Met Gala's recent theme "fashion in the age of technology." Many people who attended imagined this theme theatrically as robotic-inspired fashion, but in so many ways fashion in the age of technology doesn't have to look differently than it did in decades past, but instead should think/act/affect us differently. Fashion blogs can be a vehicle for the democratization of fashion and a dress doesn't have to be a burning flag to be a political statement or effort to revolutionize the industry. Moving Castle is a collection of sweet, feminine dresses, but also one step closer to a better fashion industry.
And it seems odd after the above musings to talk about how I like the capelet detail on this dress which moves as beautifully as the rest of your dress in a summer breeze. It's makes the dress quite unique and interesting without being an overwhelming design detail or making the dress less wearable. A few simple brown accessories tied it together without distracting from the statement dress. I snapped up
this hat
the instant I saw it on ASOS since it's under £20 and seems like a steal compared to all of the other woven hats with words on them out there that cost hundreds...