Book of Deer
is one of those few brands that I find myself talking about a couple of times a year. Other favorites come and go, but Eilidh's creations never disappoint. This autumn/winter season she was inspired by cyrstals and moths, weaving their magic into the threads of her clothes. I immediately honed in on her
Fortune Shirt
with it's delicately embroidered fortune teller hand's and crystal ball on the collar. I like how clean and classic the blouse is, but how that little detail sets it quietly apart from other basics. It's a very verastile piece to add to any wardrobe, so I couldn't resist styling it three different ways. My favorite look is this first style; mixing Eilidh's embroidered detail with an older embroidered shift dress from my closet.
P.S. If you're looking for a deal, or a way to afford an independent designer then look at past collections and see what is on sale Independent designers can't produce as cheaply as high street brands, but that is part of the appeal when shopping from lines where every piece is a labor of love. Still I can understand if you're on a budget, so check out
Book of Deer's collection from last autumn
, everything is half the original price!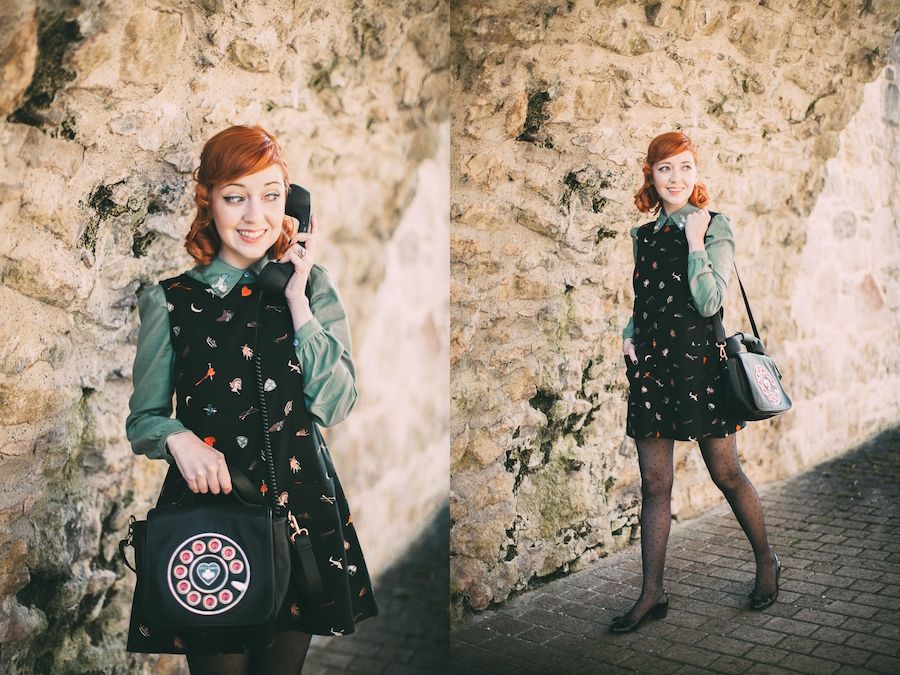 **Book of Deer blouse, Samantha Pleet dress (old), Ferragamo flats (more Ferragamo Vara classics), Betsey Johnson purse, Almanac for June hair pin**
This style is more business-chic with a twist--the twist being it perhaps is not the most office friendly style with a lace-up skirt (could depend on the office, no?)! But like the blouse, I just can't resist clothes with an added detail to it. I've probably cycled through half a dozen basic black pencil skirts in my closet over the years (first purchased when I was working as a secretary and then re-purchased at various times in my adult life when I thought "wow so classic, so stream-lined, so necessary for a
grown woman
") that never get worn. My style tends more towards skater skirts and whenever things feel a bit "business-y," like the sort of thing I would be recommended to wear in my business classes when making a presentation, I lose interest in them. But this skirt has potential staying power in my closet, it's sleek, but the detail piques my interest. I liked it with the blouse, but I'm also interested in styling it with cozy knits and boots this autumn.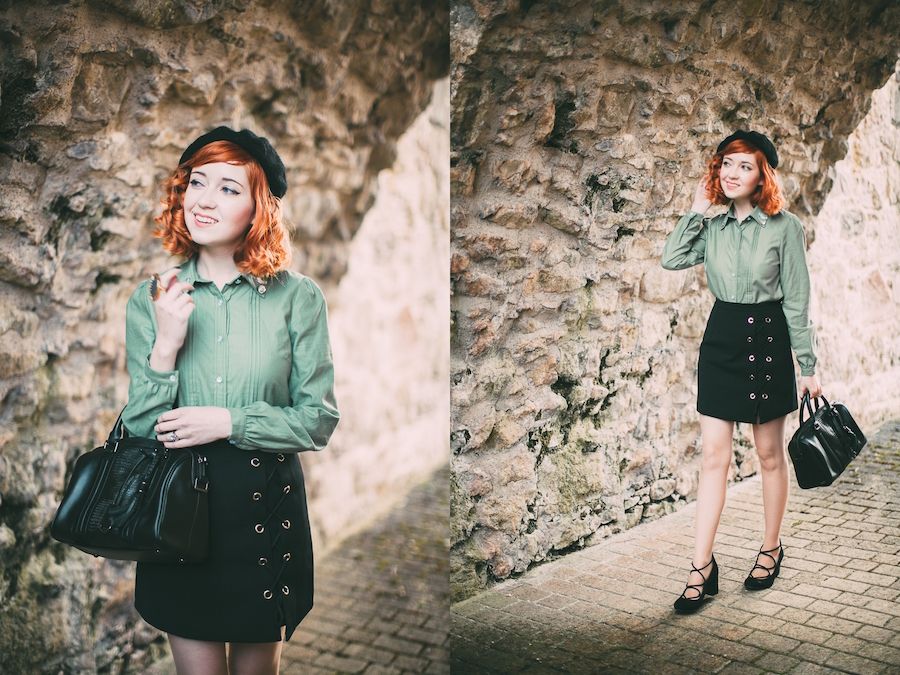 **Book of Deer blouse, Chicwish skirt, M&S heels (more lace-up style heels), House of Harlow ring**
A new pair of overalls! I got these while I was stateside last month and have been wearing them all of the time since then--in part because I hadn't packed much in my closet and they kept my warm, but I'm a bit addicted. When you wear skirts and dresses all of the time you often forget how liberating it can be to move around in jeans! These are so comfy and really add a playful charm to the blouse. It's a style that is a little less typically "me" but I'm really enjoying at the moment.