March is a good month to celebrate Ireland since it is around this time of year people start wearing "kiss me I'm Irish" tees. I don't have a kiss me tee yet, but since I do have many reasons to celebrate this Emerald Island I am quite happy to wear my "erin go bragh" or
"Ireland Forever" necklace
. A wee bit classier than a tee, no? It's a dainty wax seal silver charm (more on that below) that I might just be tempted to wear everyday especially since it's a piece that works with more casual outfits or fancier looks (like a vintage green dress that matches countryside...). It seemed only fitting to find a scene worthy of the phrase and to me there are few views more iconically Irish than rolling green hills criss-crossed with rough stone walls. It's exactly the sort of scene that I fell in love with on my first visit to Ireland back in 2013 and one that still craning my neck out the car window to take it all in today. Even though we're only at the start of spring, the fields are already quite green and dotted with young lambs and sunny patches of yellow gorse.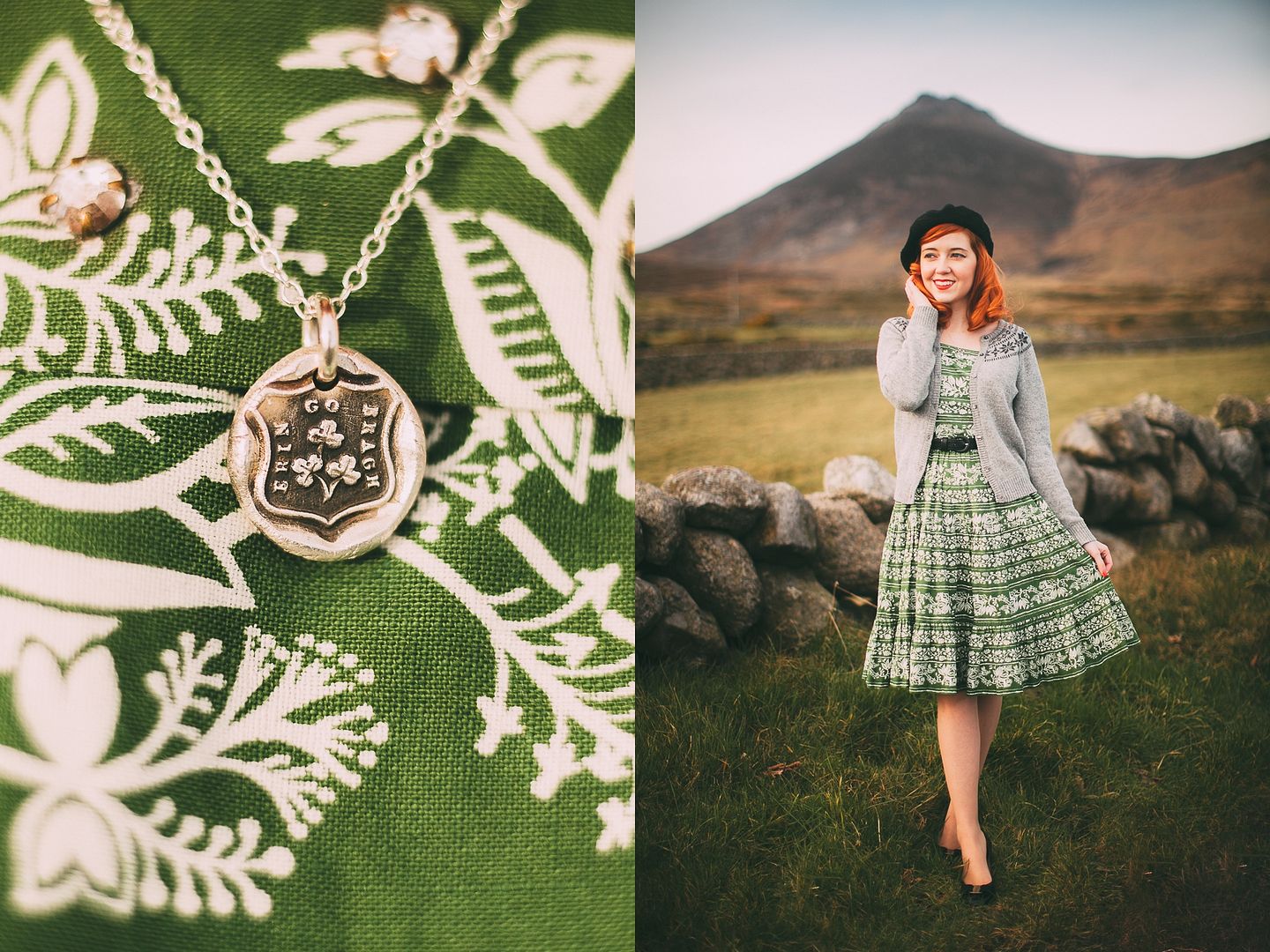 For a little history on the origins of wax seals, "
in the mid to late 1800's in Britain, known as the Victorian era, jewelry was highly symbolic and sentimental. One element of this was represented in jewelry men often wore, called fobs, a small ornament made of metal and natural stone that hung from a belt or at the waist. On the stone was carved a message in reverse, which was then used to stamp wax on an outgoing letter, sealing it with that a message. Each seal was unique, and many conveyed ideas of love, mortality, or even puzzles known as rebuses which spelled out a message to the reader through symbols.
" History lesson from
Stacey Fay Designs
who made this
Erin Go Bragh wax seal piece
by hand with an antique fob.
Her shop
is also packed with real vintage treasures if you enjoy the idea of wearing a piece of history.