To me, picnics are often better in theory than execution. I remember when I was little planning a picnic with one of my sisters. We spent ages prepping; making Nutella sandwiches, slicing fruit, mixing lemonade and so on; then collecting all our supplies we trooped to a grassy hill sprinkled with wildflowers just beyond the edge of our backyard. We spread our blanket and unpacked our goodies, settling in to enjoy our sandwiches when we spied one bee...then another, and another, until it seemed like dozens were buzzing wildly around us. Hastily we scooped up our picnic and beat a expeditious retreat to the safety of our house leaving a few half-eaten sandwiches in our wake. And that was the day we learned our neighbor was also an amateur bee-keeper! We didn't actually get stung (we hadn't upset a nest, we had merely set up picnic in close proximity to their hives), but it still managed to put me off picnics for quite awhile. I like the
idea
of them--enjoying a meal outside in gorgeous settings, but they never seem to go quite according to plan. Most days the closest I get to a picnic is take-away food scoffed down parked beside idyllic settings before we head out to explore (I'm quite partial to a curry chip); you still get close to the outdoors bit (minus the bugs), but manage to skip the prep!
This summer however I was determined to have a proper "adult" picnic, complete with a gorgeous hamper/basket and the perfect backdrop. Castle Roche was somewhere we had explored before and when my new hamper from Eaton Hampers arrived in the mail I quickly began planning our next excursion to this crumbling masterpiece.
This picnic basket
is my dream; so lovely to look at with autumn-toned tartan interior and attached blanket, but also incredibly functional with all the necessary accessories for two and a little removable cooler pouch for your food! As leery as I am of picnics this is one basket I plan to use again and again, especially since we often get peckish while out exploring new sites. So with the perfect picnic basket in hand I prepped my first "serious" picnic throwing in bits of fresh fruit, a bottle of elderflower lemonade (quite a step up from the powdered mix of my youth!), sandwiches, and little nibbles. I'm probably most chuffed about the little bites I made with our homemade basil pesto--made with basil from our own little kitchen herb garden. Yes, quite the elegant adult--no Nutella and white bread sandwiches or bees this time! Thankfully!
My lovely maxi dress
from my favorite independent label,
Family Affairs
, finished the picture. There were also no cliche rain clouds, or trail of pesky ants either; in fact, this picnic such a smashing success my next one might not be too far off. Sometimes, ever so occasionally, expectations can match reality...
Read on for the legend of Castle Roche below; it's a story that makes my long white gown quite fitting and a little creepy for the setting...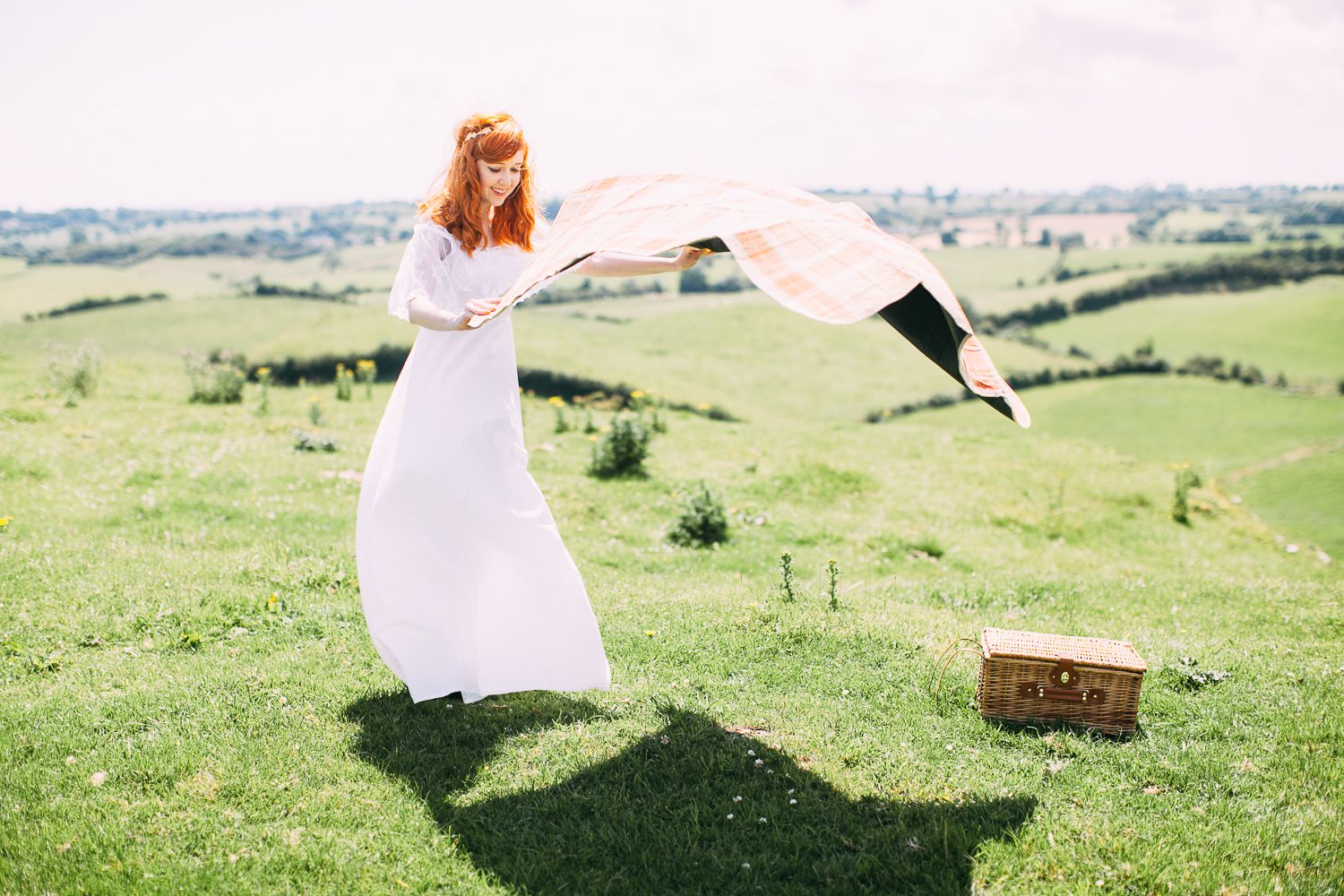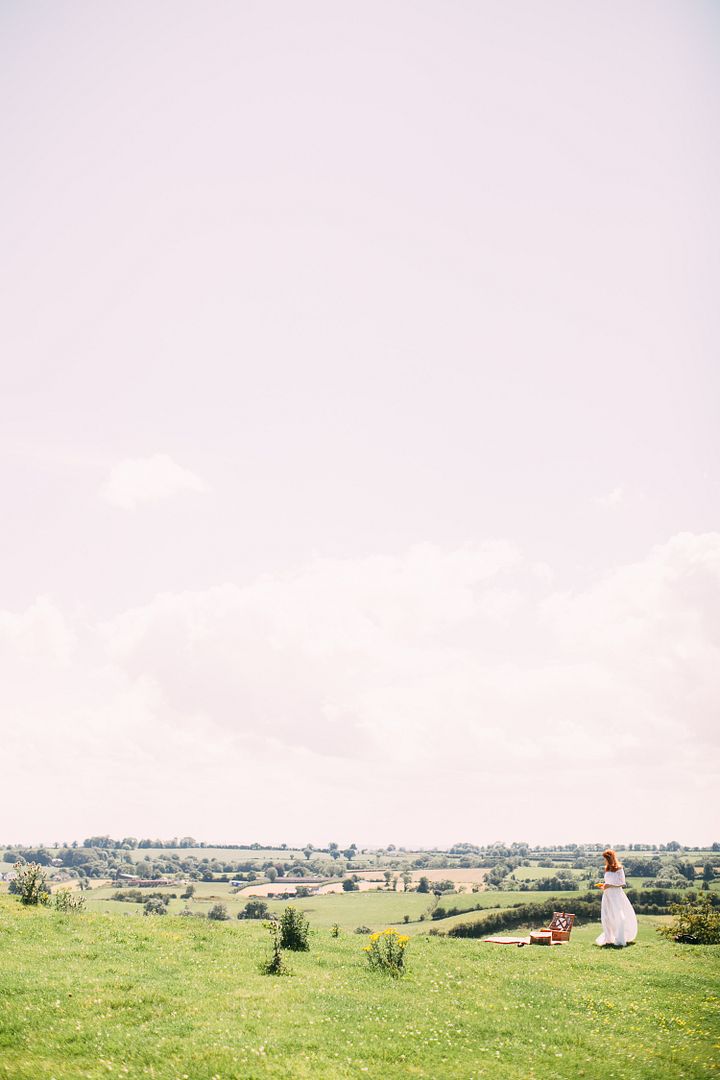 The Legend of Castle Roche: Rohesia de Verdun wanted a castle to secure her land, but her reputation for a quick temper kept the local architects and workers away. So Rohesia proposed an irresistible offer; she would give her hand in marriage to any man who could build a castle worthy of her. An offer that meant not just marriage to a wealthy woman, but a portion of her lands and wealth. And so Castle Roche was built; an impressive structure strategically placed high on a rocky outcrop with beautiful views of the surrounding countryside and a deep moat making it virtually impenetrable. A lavish wedding feast was held and Rohesia led her groom up to the bridal suite of her new castle. She urged him to look out a large window at the rolling hills and land they now shared...and then with a swift shove to his back she sent him falling to his death.