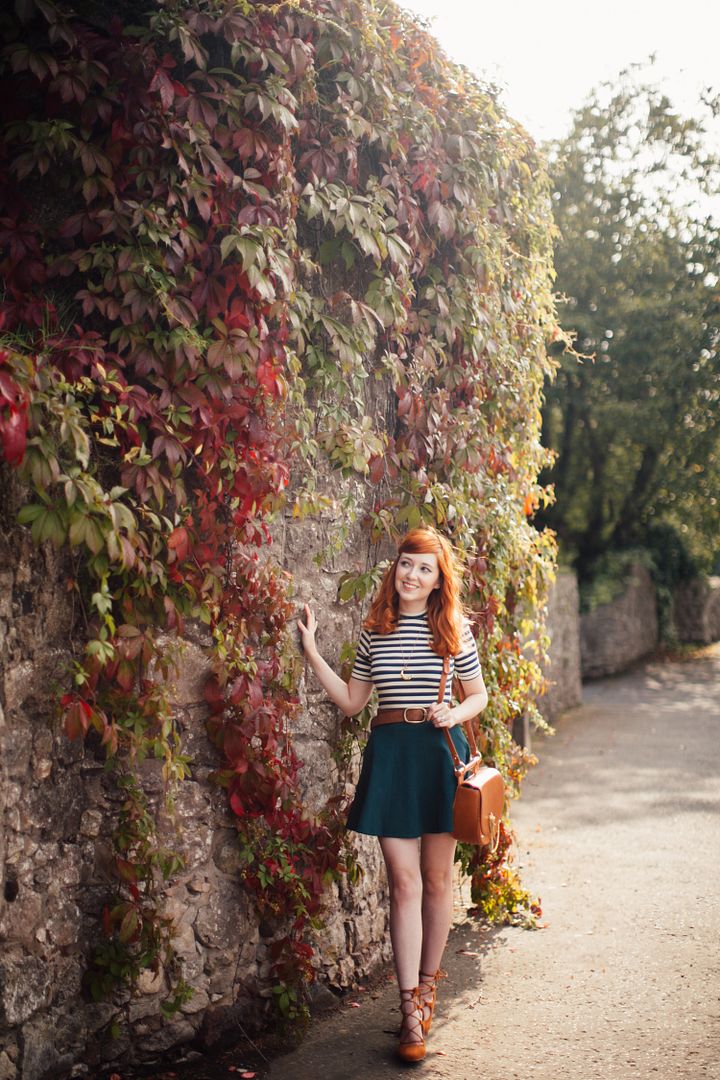 My online shopping addiction (more meaning because 90% of my shopping is done online and less because I have an incurable shopping habit, although who knows perhaps that too…) has been noted and one my most requested posts is for tips on shopping online—vintage and otherwise. Everything I'm wearing today has been acquired through online shops and since I'm quite pleased with these pieces (some quite notably so since they are repeats from previous years) so it seems fitting to share a few online shopping tips today. I've come quite a way from the broke college student who mostly shopped thrift stores and made my first small tentative online purchases of vintage dresses from eBay with mixed success. Now I hardly ever shop in stores unless it's for groceries or I'm shopping for someone else.
1. Know your measurements.
Instead of focusing on size or even what department clothes are in, know what your measurements are. The basic measurements to memorize or have handy are your bust, waist, and hip measurements. Since sizes vary wildly depending on the brand or even country, so measurements will assure you the best fit and help you find pieces when it seems like "your size" is out of stock. Always check the size chart of each shop, you'll be surprised by how much those differ! It's also essential to know your measurements when buying vintage since many of those pieces aren't labeled with sizes or the modern sizes have changed a lot. Another trick is to measure out some of your garments that you like the fit of, that way you can look for new pieces that are sized/cut similarly. It's also helpful to know what length dress or skirt you prefer (like inseams for trousers); again I usually start by measuring a dress I love the fit/length of it and use that as a tool to compare new dresses or skirts against.
If you're petite, also check out the children's department while keeping your measurements handy (I might do a whole post on shopping from the children's department one day)! Children's departments can have some cute finds (like adorable printed skirts) but these days they're also stocked with basics like striped tees or classic coats that no one would even guess is from the children's department. Keep in mind that the cuts will be different for children and adults, so some tops and dresses won't work if you are on the bustier side and children's clothes usually come with smaller head/collar holes so skirts or jackets are a safer bet than a tee or sweater. I still browse the children's department every now and then at brands I know are high quality because the children's clothes tend to cost less than the adult version while still being the same quality you associate with the brand or store. My favorite denim jacket was found in the children's department and fits me so much better than any jacket I've ever bought in the adult section!
2. Know the returns policy.
Before you order online always check out the returns policy. I think the reason
ASOS
has gotten so popular is largely because of their fantastic returns policy; with free shipping to you and free shipping on returns it costs you nothing to try a piece out and return it if it doesn't work--so you get all the perks of trying something on in a store for free, but you still get to shop from the comfort of your home.
Boden
I learned recently also has a great returns policy; they let you return items within three months of purchase, no questions asked, and even return items you're dissatisfied with/didn't meet your quality expectations for a full year after your purchase in exchange for store credit (their policy description is quite a cute/cheeky read in fact...). An easy returns policy definitely makes online shopping a bit safer/fun, but it isn't an option for every store (and smaller brands or vintage sellers would definitely struggle to offer a similar policy), so it's just smart to know what the policy is before you place an order. If there isn't such a great returns policy where you're shopping then really inspect a piece online before you place your order and this sort of connects to my next tip…
3. Develop some brand loyalty.
I sort of shop all over, but there definitely are shops I return to online again and again even if the returns policy isn't perfect because I KNOW the clothes will fit me correctly/well.
Modcloth
is one of those for me; I'm hard-pressed to think of piece I haven't liked that I've ordered from Modcloth. Knowing what works for you whether it is a style of clothes or the sizing of a particular brand means you can shop with confidence knowing there will be less returns or ill-fitting purchases. Brand or shop loyalty is also key when shopping vintage on places like Etsy; I suggest favoriting your shops so you get updated when they post new pieces and even track down their IG handles. Some shops will post previews and discount codes on Instagram and I'm noticing more and more host sales entirely through Instagram, so if you're not following their social media you could be missing some amazing vintage finds.
4. Always do a quick search for a promo code before you place your order.
I do this almost every time I shop online and it usually gets me a nice little discount or perk, like free shipping. It takes no time at all and can end up saving you quite a bit of money. I like doing a quick search for a promo code rather than subscribing to loads of newsletters or email updates about sales because a promo code helps me get a discount off of something I already know I want to buy--a newsletter update or reminder about a sale tempts me to spend money on things I wasn't intending to buy. I'm not completely anti-newsletter (see brand loyalty above), but I prefer to limit impulsive purchases when I can.
5. Shop with specific items in mind.
Some people recommend browsing your favorite shops often so you don't miss out on some new find, but I actually prefer to shop with a very specific idea or piece of clothing in mind. Whether it's a vintage piece or something more basic like a sweater in a certain color or pattern, I go poking around online with that specific idea. Last year I found the most beautiful vintage navy pinafore with embroidery detail by searching Etsy for "vintage embroidered pinafore dress." Lol. I was on a pinafore and embroidery kick and wanted to see if I could find that combination. The moodboards I share on the blog are filled with my real shopping inspiration for the next month or season. I think this helps prevent impulse purchases and builds a closet of pieces you actually want to wear again and again instead of trendy one-offs that don't mix into your daily life. If you're not sure what you're looking for maybe start with a private Pinterest board and fill it with some inspiration for the next month; what colors do you see repeated in your board again and again, what pieces look similar; i.g. is it filled with little white dresses or are you have a yellow cable knit moment? Those are the pieces to try to hunt down in your size and price point.
6. Find a good tailor!
Especially with vintage shopping sometimes you're going to fall in love with something that doesn't fit perfectly; maybe it's a size too large or maybe it's just cut a bit awkwardly (fits in the waist but gapes under your arms or the torso is too long—my main problems as a petite person!), this is where a little bit of sewing comes in handy. Some things you don't even need a tailor for; can a row of buttons be moved over an inch? Is it just a smidgen too long? Don't be ashamed of hem tape! For more complicated things find a tailor or friend with some sewing skills; some great finds are worth investing in for minor adjustments that make them perfect, just think about how often you will wear a piece of clothing that has been tailored to your exact measurements.
7. Read the reviews.
So many stores now post public reviews of each garment they sell so you can get instant feedback on how a dress fits or looks in person as opposed to on the model; some like
Modcloth
and
Free People
even share pictures of their customers wearing the clothes. I find this really helpful with pieces I'm on the fence about and sometimes one person's negative review actually sells me on a piece—oh those shoes run narrow? Get me a pair for my weird, narrow, flat feet stat! That's the thing I love about reviews; one person's dream piece is probably someone else's nightmare. It's important to pay attention to the content rather than the tone; they're dissatisfied (or satisfied) but does the piece run large or small, short or long, thin or too thick? Again Modcloth's reviews can be very handy because some shoppers share their measurements so a dress the perfect length for someone who is 5'10" won't be as appealing to me at 5'1".